July 2 - So, as I mentioned last night, this weekend marks the one-hundredth anniversary of one of Prairie du Chien's many oddball institutions, Pete's Hamburgers! Ever since Pete Gokey first made batches of hamburgers for a firefighter fundraiser (utilizing his secret ingredient; water), Pete's has been a Summer-and-Autumn weekend tradition. Over the years, while time has marched forward, very little has changed for the hamburger stand. In fact, I think that this "new" version of the stand (made a mere twenty years ago) is only the fourth to have dispensed burgers "with or without" onions on the hot streets downtown. Beginning tomorrow, three days of Pete's-centric fun will reunite family and friends, celebrate local history, and bring together everyone alive who has been part of the Pete's story...and that includes me! Several years ago (1999?), I drew the artwork for a new Pete's Hamburgers T-shirt. It features people from several different eras, all enjoying Pete's burgers. Below them is the phrase "WORTH WAITING IN LINE - SINCE 1909."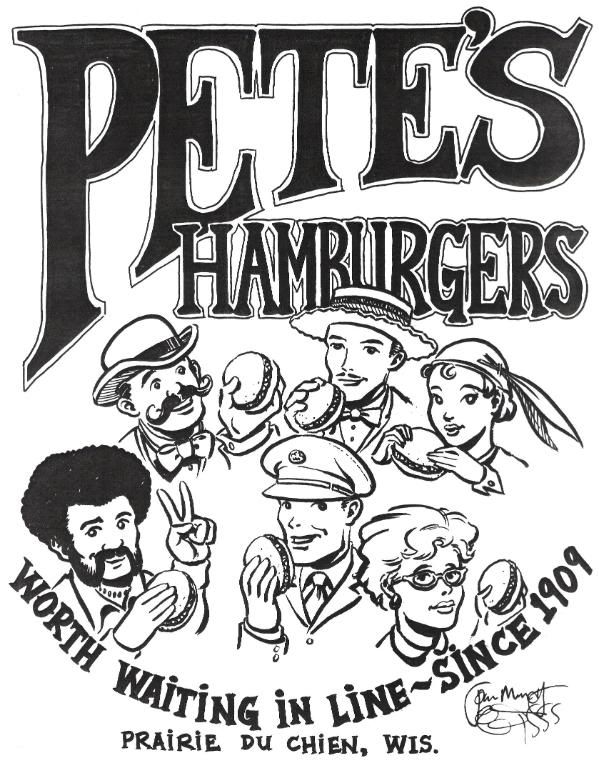 Not too long after that, I was asked to create a postcard for the stand. It features the double-line (people on both sides of the stand, but essentially in one line as the customers are served one at a time from alternating sides) mentioned on the T-shirt.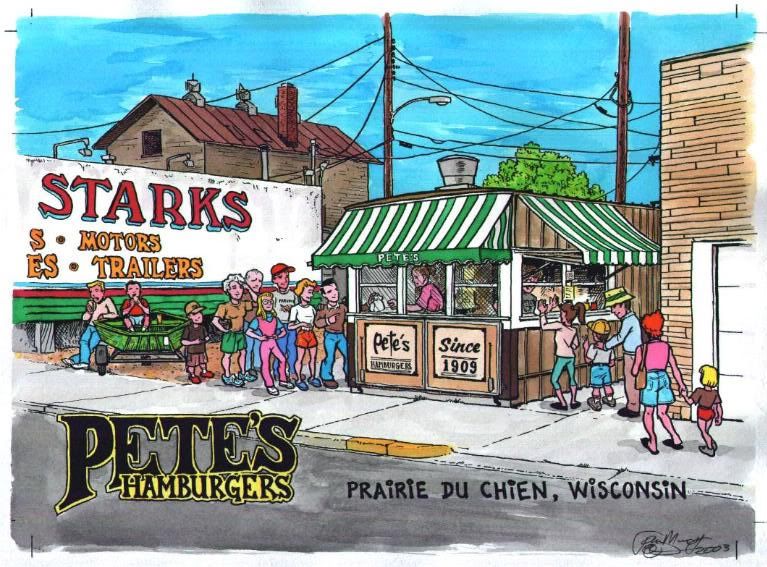 It's crazy, I know, but whenever I drive by the busy stand, and I see my T-shirt swinging from a hanger in one corner, while my postcard seems to have come to life...well, I feel a weird pride that I can't explain. That's why I said "Yes" when asked to draw caricatures for Pete's customers over the next three days. That should be fun...and it may be even more fun on Saturday when all of the artists who have contributed artwork will be on-hand. That includes my former high school Art teacher, Paul Porvaznik, and, as my Mom put it, "at least one Williams boy." This honor (?) is doubly humbling for me since Pete Gokey himself was an artist and sign maker when he wasn't making burgers. If you're in town over the weekend, treat yourself to a true Prairie du Chien tradition; stand in line, order a burger (in fact, get two), and remember to tell them whether you want yours "with or without." Oh, and bring a little extra cash for a caricature. I will be donating my profits to The Gokey Fund, established by Pete's descendants to raise money for cancer research. Stop by, won't you? The first burgers are ready at 11:00 each morning! See ya there! Oh, and here is another back-logged Comic Book Father Character of The Day - George Jetson!