May 29 - Hola! It's been a busy, busy few days here at WOMP Central. For some mysterious reason, my caricature "business" has really picked up this year. Since the second week of April, I haven't gone a single week without at least one gig. During the week that culminated in my attending SpringCon, I had three caricature events. For comparison, I had two such events total in 2009. I have no gig next week (so far), but I do have two more during the week after that. It's crazy! Earlier today, I drew caricatures at the high school graduation party of the young woman who was, as a kindergartner, the flower girl at my wedding. Fittingly, my bride from that day nearly fourteen years ago (the lovely WOMP Staff) attended the event with me...or, more accurately, at the same time. I was pretty busy, so we didn't see much of each other. Now, hours later, as I plan to continue my SpringCon 2010 report, I have begun to wonder about bringing my caricature drawing equipment to future conventions. I'm not even sure that it would be physically possible. The "end-to-end tables" layout of most cons leaves little room for a gangly jumble of chairs and easels, not to mention a line of waiting people. Still, because of the potential for $$$, I'm mulling it over. Speaking of mulling, let's get back to my report...

Hope SpringCon's Eternal

Part Three; "Three of a Kind...Kind Of"

For those who've never set up at a comics convention, I can tell you that a friendly relationship with your neighboring fellow guests can have many rewards beyond just the pleasantries of conversation and boredom-quelling. There are the practical aspects, like watching over each other's stuff during bathroom breaks, but, more-over, such relationships can enrich the whole convention experience. Some of my best friends in the biz were once "booth buddies" at one con or another. In fact, during this year's show, I met up with (at least briefly) about a dozen past FallCon table-neighbors. Some, like
Jeff Rose
(keeper of the
Official Alex Toth website
) and family stopped by our SpringCon table, while others, like
Mike Toft
(
Cartoon Conspirator
and maker of
Brain Food
) were, like me, virtually shackled to their current tables, so we were only able to see each other in passing. Our buddy from the last FallCon,
"Mad" Scott Gallatin
, and I were actually able to spend some time gabbing at each other's tables. In fact, I purchased one of his awesome sketch cards, an image of "slave Leia" from
The Empire Strikes Back
.

Scott had convinced me to draw my own sketch cards, so a handful featuring WOMP characters made their debut at SpringCon.




I had intended to mix in other, more established characters, but, well, I didn't. I don't know why. It just seemed, I don't know...presumptuous? Yes, I'm sure that images of Deadpool and Batgirl would be far more saleable than cards featuring Vladic and Kitty Boy, but I have such fun drawing my own characters that I am reluctant to draw those with which I have less familiarity. Oh, well...at least many of my cards sold, including one featuring stupidly-named Flamehead Toothy...to Scott Gallatin!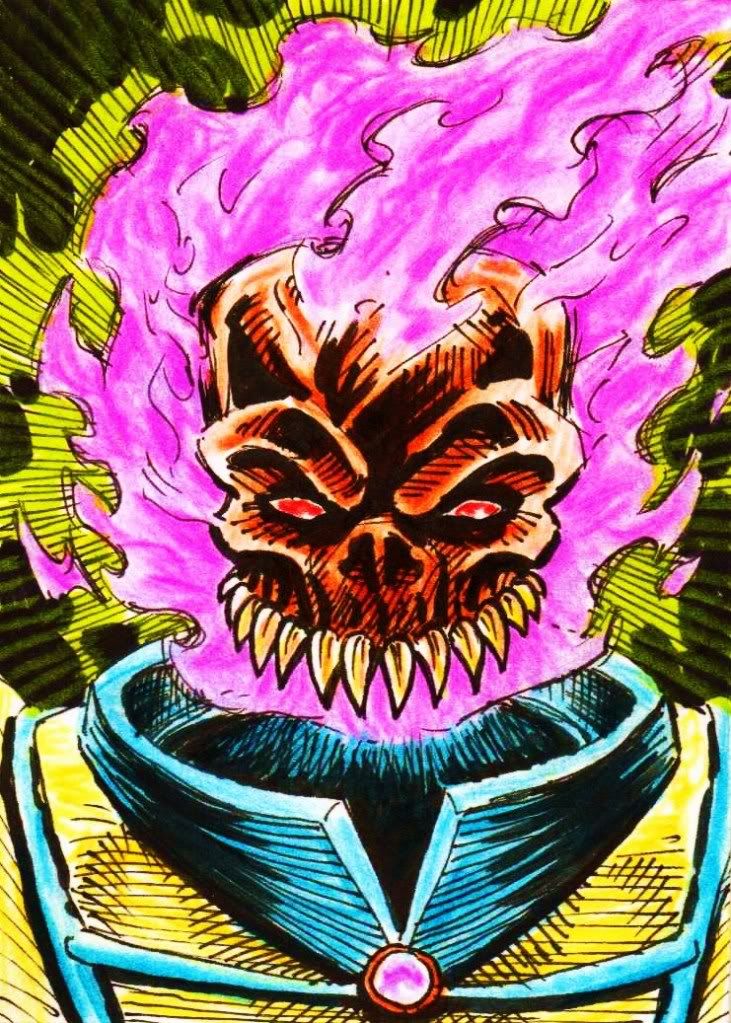 So, I guess we basically traded art. As for this year's booth buddies? Well, we all had a very good time talking to each other. By the end of the show, there had to be at least six people who manned (or womanned) the
Fancy Pants Gangsters
table. They were a fun bunch of podcasters, webmasters, artists, and the gal who was not only the designer of that R2-D2 as birdcage T-shirt, but also came dressed as Silk Spectre from the
Watchmen
movie. Based on our conversations, I drew for them a zombie (OK, again it was my own character,
The Zombie
) who was wearing their awesome necktie-sticker-business card. Our neighbor to the other side, the incredibly talented
Corey Kramer
, and I had already met (last year?), at which time we discovered that we'd each attended the Joe Kubert School (he graduating in 1996, if memory serves)! Among other things, he was debuting a new comic strip,
Wonder Weenies
, with a "Sneak Preview" mini-comic.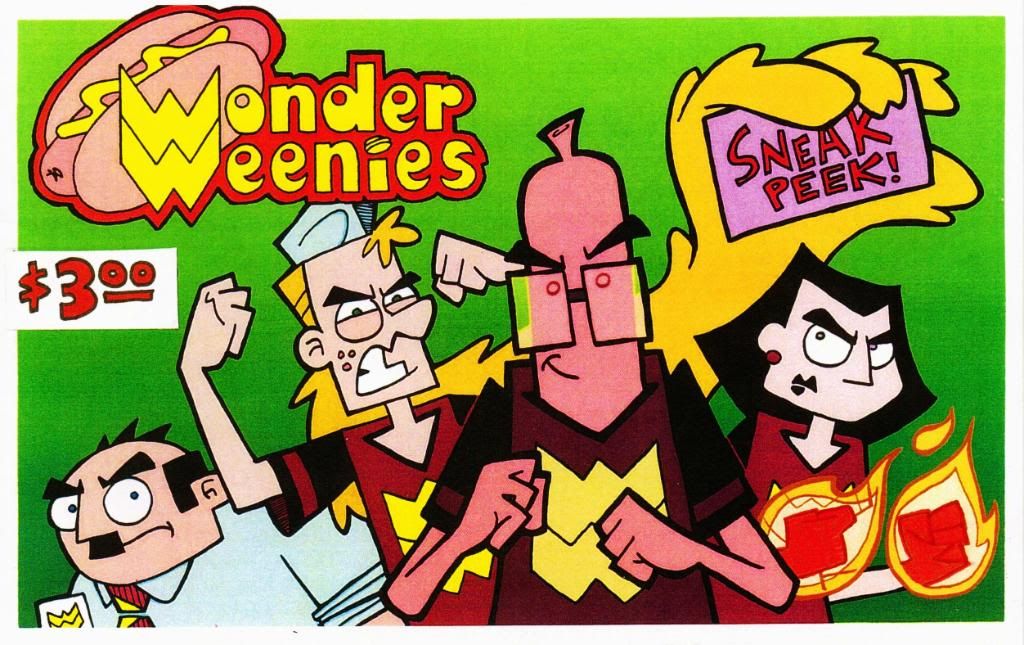 The storyline is so clever, the characters are so well defined and funny, and the whole thing is so perfectly executed that I will not only enthusiastically recommend it, I will go several steps further by predicting that it will make a great animated TV show some day (remember, you heard it here first). Toward the end of the show, I had also met artist
Jim Keefe
. As I looked through his amazing Flash Gordon original art (he was the final artist to handle the iconic newspaper comic strip before it was canceled), I just had a feeling that we too had a connection...and I was right! Yup, he was also a grad of the Kubert School (1989)! We had a great conversation, which culminated in my purchase of his beautiful sketchbook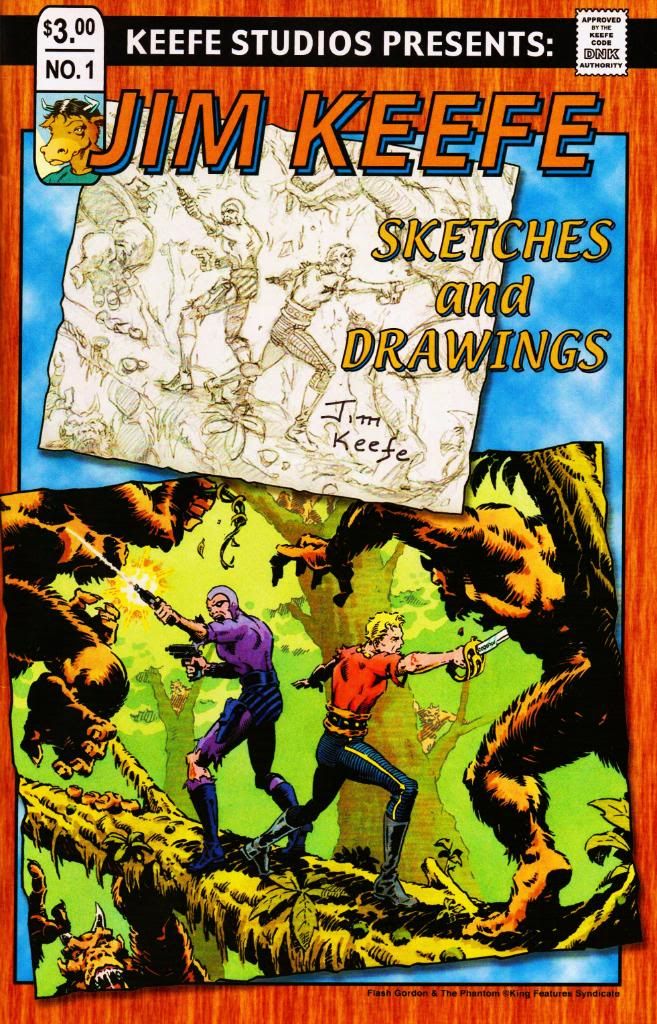 and several nifty original drawings from his eight-year-old daughter, Anna!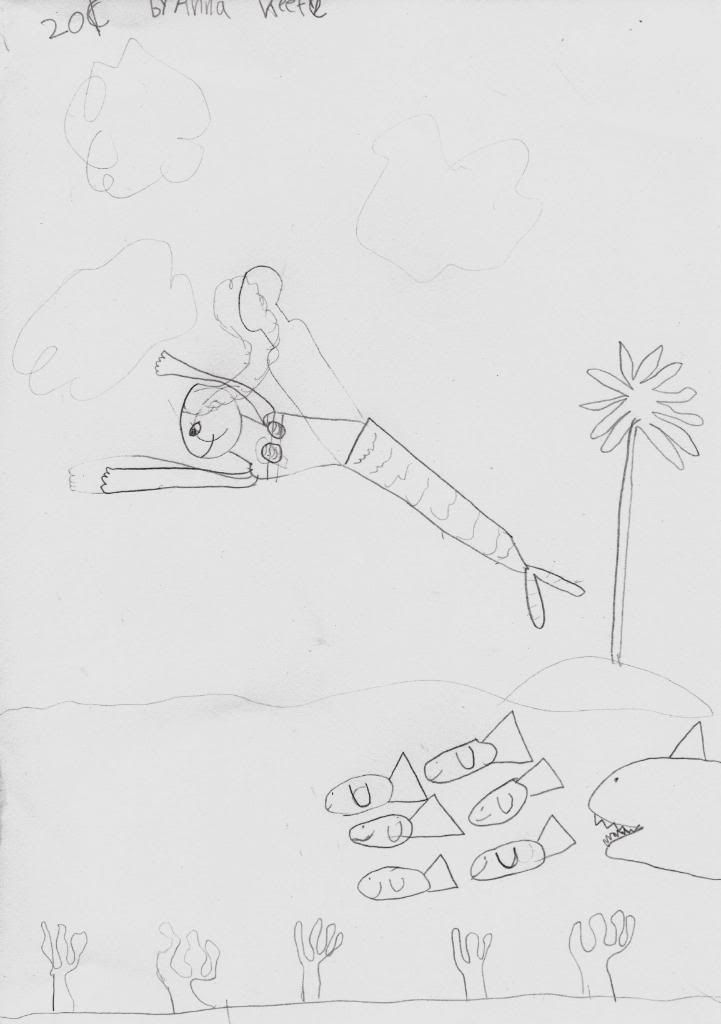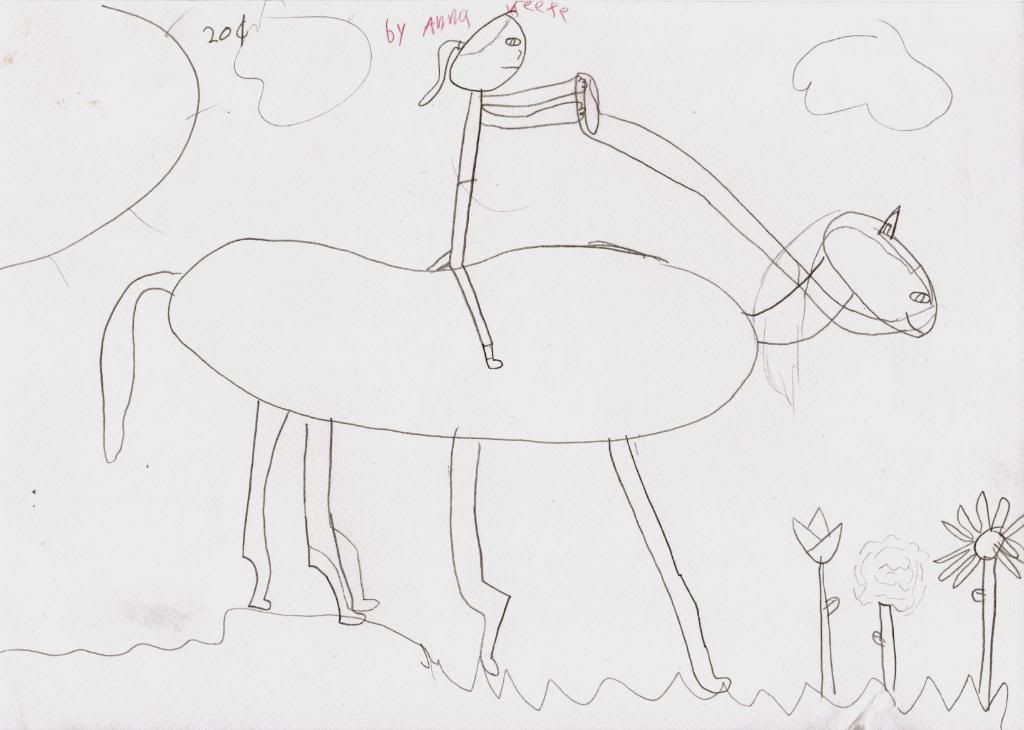 Jim then followed me back to my booth to meet Corey, where the three of us XQBs spent some time laughing, comparing notes, swapping stories, and generally commiserating/reminiscing. What an unexpected bonus that was...and what a humbling experience as well. I was definitely the ugly dog in that little pack. Oh, well.

I'll wrap up my SpringCon report next time, including my opinion of the MCBA's success or failure in switching their big Fall convention in October to a big Spring show in May (I know you can't wait for that). Until then, here is your Comic Book Superpower of The Day - Sorcery/Witchcraft/Magic!