September 12 -
I'm certainly not the first to say this, but Autumn is clearly, and I would say prematurely, creeping up on us, isn't it? That means
fallfire6
is almost upon us! I haven't done a lot of preparation work yet, but I do have some of the basics of funding and locales determined. Soon I'll have to update the
fallfire
site with this year's specifics. It feels great to be talking about the sixth annual
fallfire
contest, but, organizationally speaking, I'd hoped to be far less involved in what I'd also hoped to have been a much more autonomous entity by now. Ah,
plans
. Without my grandiose plans, and their inevitable abandonment, how else would I measure my failure? Still, having a plan -
or, to be more accurate in my case, merely the slightest hint of an actual plan
- is better than just bumbling along without any self-direction. I think. Take, for example, my "plans" for this year's FallCon comic book convention in St. Paul, Minnesota (which, by the way, has a brand new
WEB-SITE
). I have plans for all sorts of things, from new business cards, to a sketchbook of some recent drawings, to con-report webcasts at the end of each day.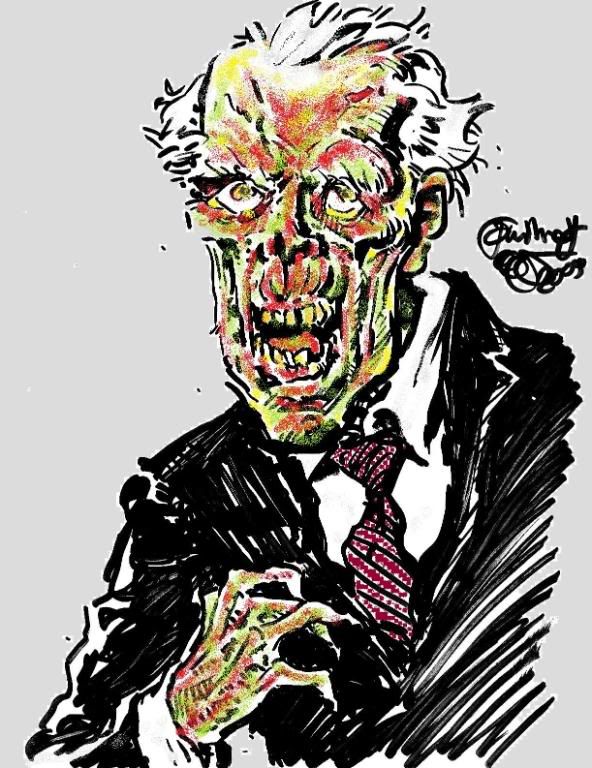 (uh...this
won't
be in the sketchbook)

How much of that will actually happen? It's almost at the whim of the wind right now, as something as simple as a single bad day at the dreaded "real" job could rob me of just enough energy or motivation that I will have to forgo any or all of my FallCon plans. Even so, I do get this little buzz of excitement in my chest when I imagine - daydream, really - about my plans. While it may be true that "life is what happens while you're busy making plans," making plans can also be a way to enjoy life. For me, actively envisioning what could be is not only constructive, but fun! So what if only a small fraction of my planning comes to fruition. The dreamer in me can sustain the realist, even when the realist has to clean up the dreamer's messes. So, wish me luck as I begin my downward spiral in to reconciling my plans with sad reality...and the same for you and your plans! Now, some quick notes....

1) SpikeTV is still accepting votes for the 2009 Scream Awards. "Who cares?" you might ask. Well, amongst the categories is "Best Comic Book," for which
O.F.O.WOMP
Tim Seeley's
Hack/Slash
has again been nominated! Quick, go vote for him
HERE
(and every day after that until October 17th)! Beyond the obvious honor of being nominated with
Green Lantern
,
Kick-Ass
,
Thor
,
The Walking Dead
, and
Wolverine: Old Man Logan
, Tim's comic has the unbelievable distinction of having been nominated by an expert panel that includes Zack Snyder, Tim Burton, Wes Craven, Neil Gaiman, and Frank Miller! That's like an award right there!
2) I will be drawing caricatures in fabled Wisconsin Dells in October (17th and 18th)! Fulfilling my father-in-law Steve's prophecy, I am finally stepping up a notch on the caricaturing biz scale, hitting "the big time" after just six (or seven?) years of drawing people in public. The event is the 2009 Autumn Harvest Fest, and you can read more about it by clicking
HERE
, although I'm not yet listed there.
3) Speaking of my father-in-law, I should probably tell you that he is doing well. He's had some trouble with his recovery now, but, overall, he's clearly on his way back to 100%.

4) I'll say it here, and I don't care what you think of me afterward; I love Glee! Maybe it's the ghosts of my high school chorus experiences come back to haunt me, or my time as director of community theatre clouding my judgement, but I can't help it. I love it. I love the music (although badly dubbed...yeesh), I love the characters, I just...love it. Plus, I've long had crushes on Jane Lynch (brilliant and hilarious), and Jessalyn Gilsig (plays Claire's birth-mother on Heroes), and a pseudo-crush on Broadway's Lea Michele (of Les Miserables fame...and she's 23, not 16 like her character, so I'm technically not a creepy old man for liking her...technically). The only problem is that I can't help singing along with the show (much to The WOMP-Staff's chagrin). Anyone else have that problem? Oh, well...don't stop believin'!

5) I have a theme for this month's "...Of The Day" feature; superpowers! Hopefully, as September progresses, I'll post some thoughts about the nature of superpowers, their origins, their deeper meanings, and so forth. Or, at least that's the plan. Hmm. So, I leave you tonight with your first dozen Comic Book Superpowers of The Day - Flight, Control Over The Elements/Weather/etc., Matter Eating, Wall-Crawling, Ability to Communicate With Animals, Super-Mimicry, Immortality, Extra-Sensory Perception, Super-Strength, Super-Intelligence, Invulnerability, and The Ability to Emit Energy/Lasers/Fire/etc.!