September 8 - So, what else have I been forgetting and/or forgoing? Well...

4) We have a new cat! Actually, he's just a baby, having just turned two months old. Basically, my mother-in-law found out too late that pets were not allowed in her new apartment, so into the mix of already-too-many cats at WOMP Headquarters comes...

Alex P. Kitten


(aint he just the cutest?)
As for the play on the name of Michael J. Fox's character on the Family Ties TV sitcom of two decades ago...? Well, he had already been named Alex when we got him, and there seemed to be a patriotic/political "theme" to his life, just as there was for Fox's character. He was born on the Fourth of July, and we got him on Labor Day in the midst of political party conventions and a hotly contested Presidential election season. The night before we drove over to get Alex, I had a dream in which we called him "Alex P. Kitten." When I woke up, I thought "Well, that's as good a name as any other, I suppose," and now Alex is stuck with it. Not that he minds, of course. He's all sorts of crazy, kitteny fun. He's jumping, running, tipping things over, eating everything, and (and I swear this is true) guzzling beer (OK, "guzzling" is in the eye of the guzzler, I suppose...all Alex really did is lick the moisture off of an empty bottle). Finally, today, all resident cats have warmed to his wobbly antics. He's actually fitting in quite nicely, although this addition to the menagerie officially makes us "crazy cat people."

5) Thanks to the Wisconsin ArtsBuild program, I am one of just 175 people soon to be featured in a guide to Wisconsin artists! It's not that big of a deal, really. The whole thing is more of a glorified database, but it's still pretty cool. I don't know what will come from this (if anything), but I'm mildly jazzed about it. I can't be too happy, of course, or the fickle gods of fate will slap me down. Especially troubling was the request to provide a single example of my work (just ONE? Man, I draw WAY too many different kinds of things to narrow it down to a lone piece), and a photo of myself. As you may or may not know, I do not allow photographic images to be taken of me. It's my firm belief that such a photo would steal my soul...leaving behind a fat dork who roughly resembles me. Still, I was able to scare up an image from my last "Done-In-One" comic book workshop in Delavan, Wisconsin. Also, cheating a bit, instead of one representative art piece, I submitted a mish-mash mosaic featuring several of my recent illustrations. I'll try to post more about this when the directory is published.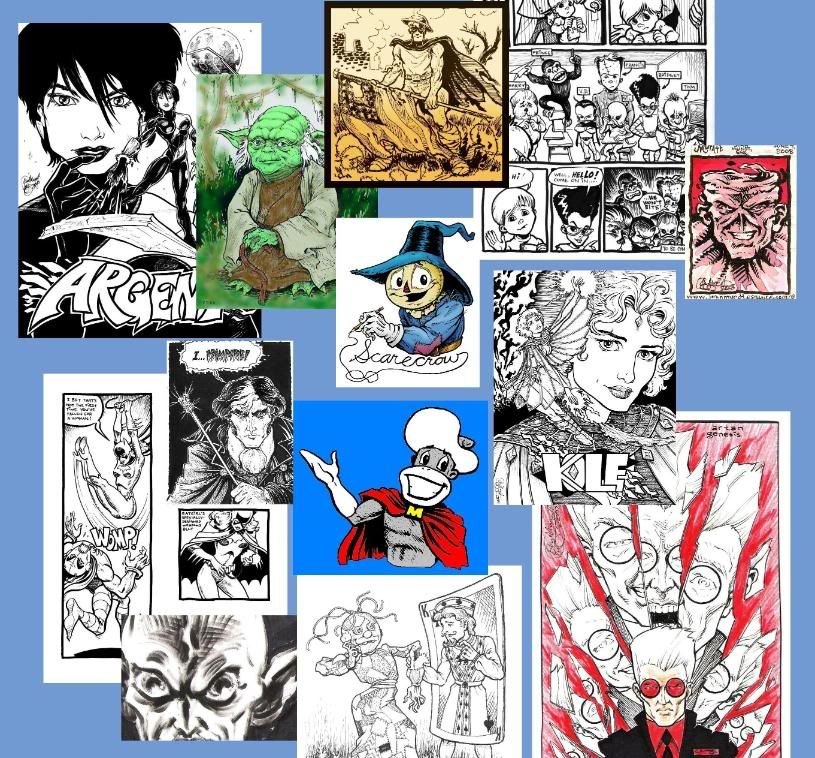 6) About a month ago, I dropped a teensy hint about "my upcoming book(s)." So, just what the heck was I thinking? Well, first of all, back then I was pretty gung-ho on the idea of collecting, annotating, illustrating, and publishing my Crusty Bunker bloggings. I spent several weeks buying every vintage Crusty-inked comic book, as well as examples of other stuff that the individual Bunkers have done since (an impressive percentage of recent illustrated Pop Culture history). The plan was to have everything ready for this year's FallCon, but, well, time is running out. At best, I may have a preview version available for the show. The book itself may take another year (I'd rather do it right than soon). Still, there is a new book printing business nearby, so I might come up with something else instead. I'm leaning toward some sort of compilation of short stories from the World of Monkey, both my own and those produced by guest writers (I have collected several of these over the years, but have yet to find a way to share them). A distant possibility would be a collection of my Kubert School remembrances from August, but that is even less likely (especially since "Hazy Recollections of An Embittered Never-Was" doesn't seem like the most saleable book). Time will tell, I guess.

That's about it for now. Here are two more Often Mispronounced Comics Creators' Names (and How To Pronounce Them) of The Day for - the 7th - Tim Seeley (SEE-lee, not si-LEE, as I heard recently), and the 8th - David Micheline (MIK-el-EYE-nee)!