June 18 - I've begun this WOMP-Blog entry many times over the last couple of days. Each time, the furthest I've gotten was this...

"Hey there, everyone. Thank you all for your support over the past two weeks since my Dad, Kelly Mundt, died. It's been like a long, terrible dream, but your kind words of concern have made everything just barely tolerable. To know that so many people loved Dad has..."

...beyond which I guess I've not been able to continue, at least not in any way that seems "right" to me. Honestly, even the act of merely thinking about the WOMP-Blog feels a bit selfish, so the concept of further trivializing my Dad's passing with some sort of florid gobble-de-gook blog posting just seems inappropriate. And yet, I really do want to talk about Dad here, especially since for decades he accompanied me to many comics conventions, at which you might have met him. In fact, in every way, and at every step, Dad was instrumental in supporting all of my cartoony ventures. Whether it was sneaking me in to his workplace late one night in 1982 to photocopy my first "real" attempt at producing a comic book (the terrible Premium Comics #1, for which I did purchase the paper at least), driving me from Wisconsin to New Jersey so that I could attend The Joe Kubert School, or manning the WOMP booth with me at last year's MCBA FallCon, my Dad was right there, making it happen.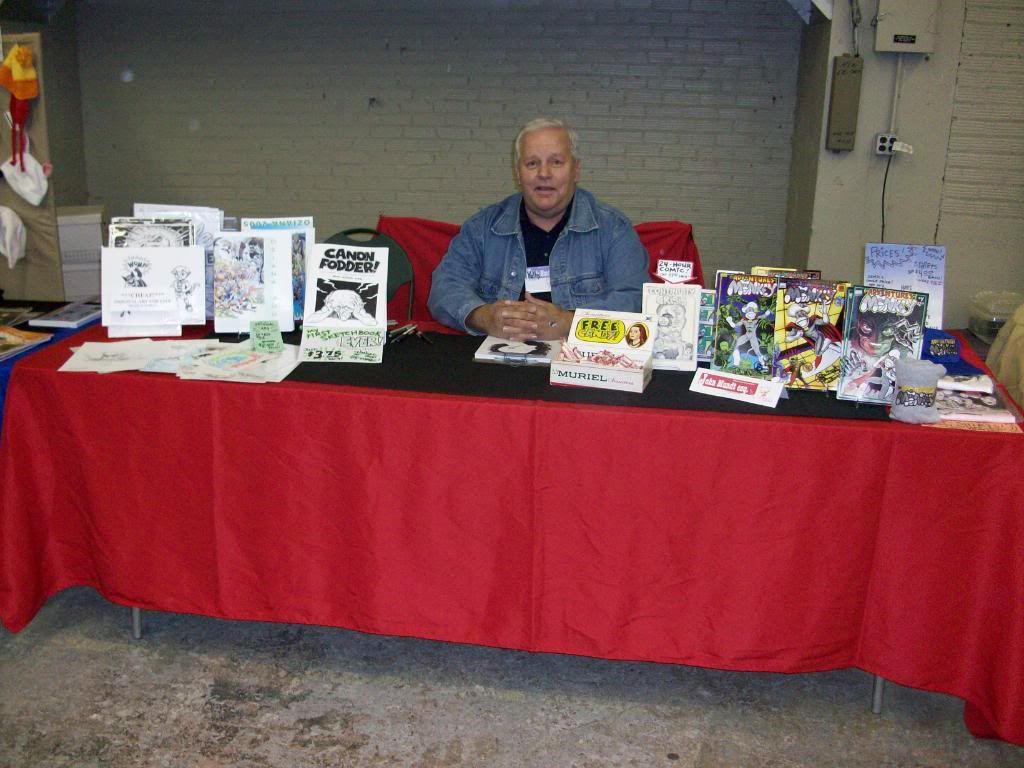 (Yup, that's Dad just a few months ago during 2009's FallCon)

But, of course, that's the stuff that you all may be familiar with. It's the other stuff - the real Dad stuff - that I'm going to miss most. That's what has been so hard to...ugh. That's the mental hurdle that I just can not jump. Nope, not yet. Somehow, someday, and somewhat soon I will find a way to sum up what kind of guy my Dad was, and what he meant to me, but I'm just not there yet. Thankfully, I'm not dealing with this alone. In fact, my sister and brother-in-law have stepped up where I have not been able to. Both wrote a bit about Dad, and have graciously allowed me to post their thoughts here tonight...

DAD

by Kristin J. Mundt

For those who know me, they know I usually never have a problem talking or speaking my mind. However, the emotions and pain I feel right now make it impossible for me to speak these words at this time, so I will write them.

The past few days, when people have consoled my family, have just confirmed what I already knew: My Dad was the kindest person I will ever know. Even when he was upset with me or mad, he still had a way of calming down the situation. I only remember getting one spanking when I was little, and my Dad had tears in his eyes when he disciplined me.

Dad was smart, gentle, funny, thoughtful, intelligent, hard working, talented, loyal, and caring. He was a great artist and singer. Many times on our car travels the whole car would be singing to the radio. Music was always in our lives with Dad playing his LPs, then 8-tracks, then cassettes, and finally CDs so much that Barbra Streisand seemed part of the family! He also enjoyed taking photographs of nature, architecture, and his family, so we always had great records of events in his life.

My brother and I always enjoyed the support of Dad in our endeavors, whatever they might be. While I was in High School, he would come to my track and cross country meets and the whole team could hear him cheering - he encouraged everyone on the teams, not just me. He and John shared a talent of the arts, drawing, and comics, with Dad driving John to many a "Comicon" (comic book conventions to those of you not in the know)

I could talk to my Dad about anything, even stuff I'm sure he didn't want to know! He heard about school, and work, and friends in trouble, and boys, and "teenage girl talk". He always knew what to say and what not to say. My husband Mike and I still called him for advice and help, sometimes he and Mike would talk so long on the phone I just had a chance to say "Love You Dad" before we had to hang up.

One of the very many things I am going to miss about Dad is the "saving the world" talks we would have late at night when I would be staying in PdC at their house. We would start talking about a particular problem in the world, and then just keep going until we thought we had solutions. If John came over, the talks would turn to stories which turned into uncontrollable laughter until my Mom would come up from the bedroom and say,

"It's 3 o'clock!"

When John and I were kids, Dad worked a lot. He was at the hospital many hours every week and vacations were few and far between. The vacations were always "adventurous" in the sense that something always happened to us: getting caught in a tornado, finding bugs in our hotel beds, having our car start on fire, and so on. Dad always drove, and seemed to be able to reassure us that it would be OK and that this was vacation! Maybe it was because of these experiences, or in spite of them, that Mike and I enjoyed spending our vacations with Dad and Mom. We went on a week long houseboat trip on the Mississippi, (even though Dad was not a swimmer); Brewers games, Badger football and hockey games, concerts, parades, festivals, WI Dells waterparks, and our yearly week Up North in Manitowish Waters. We liked spending time with Dad and Mom and after Liam and Aidan came along, it was even more fun.

There are a thousand stories and thoughts that have through my mind in the past few days, but one I wanted to be sure to share is that my Dad was "Dad" to many people. Many times I would hear "You are so lucky Kris to have parents like yours", or "Not all of us have that relationship with our Mom and Dad." My friend Robin called him a father figure and my friend Sarah said "Your Dad is what I always imagined every father should be."

Aidan and Liam miss their Bapa so much already: Aidan wants to know who will drive the minivan now, because only "Grandpa knows how to drive it." Liam said that he will "Look for Bapa in the computer room to play computer games but he's not there now."

The loss of my Dad is going to hurt for a long time. He was such a big part of my world, and the world of those around me. I have a hole inside me that may get smaller over time, but will never by filled. I will think of him every day of my life and feel his hug and hear his laugh and his "Love You" always.

And Kristin's husband, Mike, wrote a poem...

My Thoughts of Kelly

by

Michael J. Statz

(Kelly's Favorite Son-in-Law)

I find it impossible to describe Kelly in just one word

There really aren't enough words.

I find it impossible to determine which were Kelly's best qualities,

He had so many.

I find it impossible to tell somebody who didn't know Kelly about Kelly,

Where would you begin?

Which was bigger? His heart? His laugh? His love for his family?

His ability to always find time to help? His inability to say "No"? His ability to always know when

to say the right thing? His ability to know when not to say the right thing?

See, I find it impossible to put in words, who Kelly was. The best I can come up with is,

If I had a to build a Father-in-Law…It would have been Kelly.

Thanks, K & M. You're awesome. As for me and my little bloggy thing? I'll gradually get back into the swing of things, I suppose. What other choice do I have? I, and The WOMP-Blog, will go on. Dad wouldn't want it any other way.

(this is one of my favorite photos of Dad, from about 1984)