May 27 - Hey there! Back to more convention report with...

Hope SpringCon's Eternal

Part Two; "Both Ends of The Spectrum"

So, what all happened at SpringCon? Well, I have only a slight idea of what everyone else at the convention may have been doing (probably staring at comics legend Jim Shooter....that dude is as legendarily gigantic as he is legendarily, uh...legendary) because I was just busy enough to keep me tethered to the WOMP table for most of it. Oh, I did wander around a little bit as I sought out friends, bargains, and nifty new comics. I found a bit of all of that when I stopped at the
2D Cloud
table, where I met
Raighne Hogan
, who was also one of the artists (he provided beautiful, and
intrinsic
, coloring) of their excellent
Yearbooks
graphic...well, it's not a "novel," as such, but it is a great, complete read, so maybe it's a graphic
novella?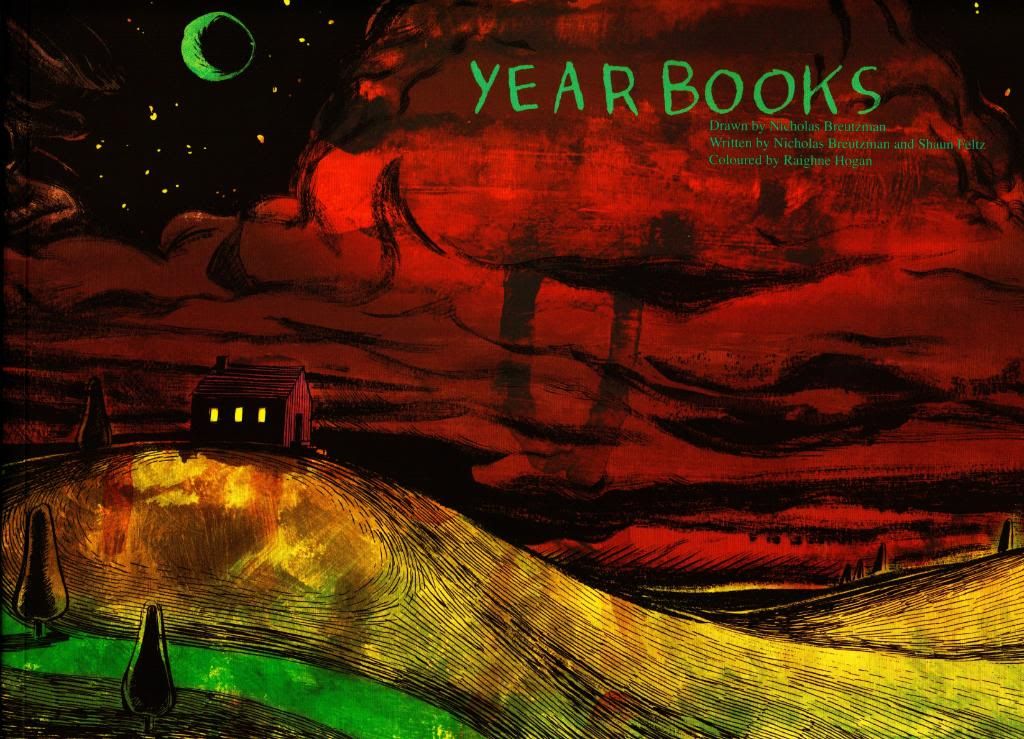 Whatever you'd call it, I bought a copy, and I highly recommend it to anyone else who still believes in the power and potential of the comic book medium, has a mind that looks for deeper meaning, and isn't afraid of uncomfortable discoveries. On the other end of the convention floor (and spectrum), I had the opportunity to speak with "Bronze Age" comics artist
Ron Wilson
(and his wife, who had the same
I-do-this-because-I-love-him-but-I-don't-get-any-of-this
look on her face that my wife does when she sits with me at the WOMP table). He said that SpringCon was his busiest show
ever
, at least in terms of sketch requests. In fact, as I was chatting with Mr. Wilson, a young man (16?) was stopped in his tracks by some of the double-page spreads of The Thing on display. Innocently, he asked if Mr. Wilson would draw something for him, clearly indicating that he had no idea that there is usually a charge for such a thing. Graciously, and without embarrassing the kid, Mr. Wilson obliged, carefully replicating the image that he had drawn for the SpringCon 2010 program cover.

The look on the kid's face when held that drawing in his hands was clearly payment enough for the gentleman artist. More tomorrow.

And here is your Comic Book Superpower of The Day - Line-of-Sight Prescience/X-Ray Vision!