March 30 - It turns out that I'm cool. At least that's what a fourth grader told me recently. I've never really felt like I was cool, but at least someone thinks I am. In fact, I seem to have been a hit with lots of people this last month...as long as those people were between the ages of six and twelve. I apologize for my lax blogging over these last few weeks, but I've been busy entertaining kids all over town. Some we were "babysitting" (or whatever word you'd use when the kids are around ten years old....preteensitting? Hmm...that doesn't sound right), but most were the Third, Fourth, and Fifth Graders of Bluff View Intermediate School. The school is just a few blocks away from WOMP Headquarters, so it was no big deal for me to just drop by to talk about comics and cartooning (and you know that I love talking about myself, as is evidenced by the example of this WOMP-Blog).



Not only was that was a lot of fun, but I really feel that I was able to tell every group (several hundred over the course of two days) some very important, interesting things. I knew it was going well (based purely on the excited shrieks solicited by my drawings of blob monsters and super-ducks), but I was pleasantly surprised at the great, pertinent questions the kids asked. It was pretty obvious that many of these students were truly cartoonists in the making. To me, that made the whole thing worthwhile. Oh, if only some cartoonist had told kid-me even half the stuff I told those kids (all of which, by the way, someone else told me in later years). Sigh. Anyhoo, time has passed, and I had only my impression of the day to gauge whether I'd had any impact. Imagine my surprise, then, when a package from the school was delivered to WOMP Central. Within it, wrapped in three signed "thank you" cards (one from each grade), were literally hundreds of cartoons drawn by the students!


(I tried to take a photo of the "thank you" drawings, but my
"assistant" insisted on "helping," so this is my best pic)

Awesome! Better still, upon review I could see that the vast majority of them had implemented one or more of my tips from my "lectures." And, yes, I looked at every single one. Most were actual comic strips, some of which were quite good or funny (all of which were very interesting). Now, I'm not deluded enough to think that any of these kids will necessarily go on to have cartooning careers someday, but I've always felt that cartooning comics can open up imaginations, can improve communication skills, can comfort in troubled times, and can be a lifelong friend, so I feel like I've really made a difference in their lives. And, you know what? That makes me feel pretty cool.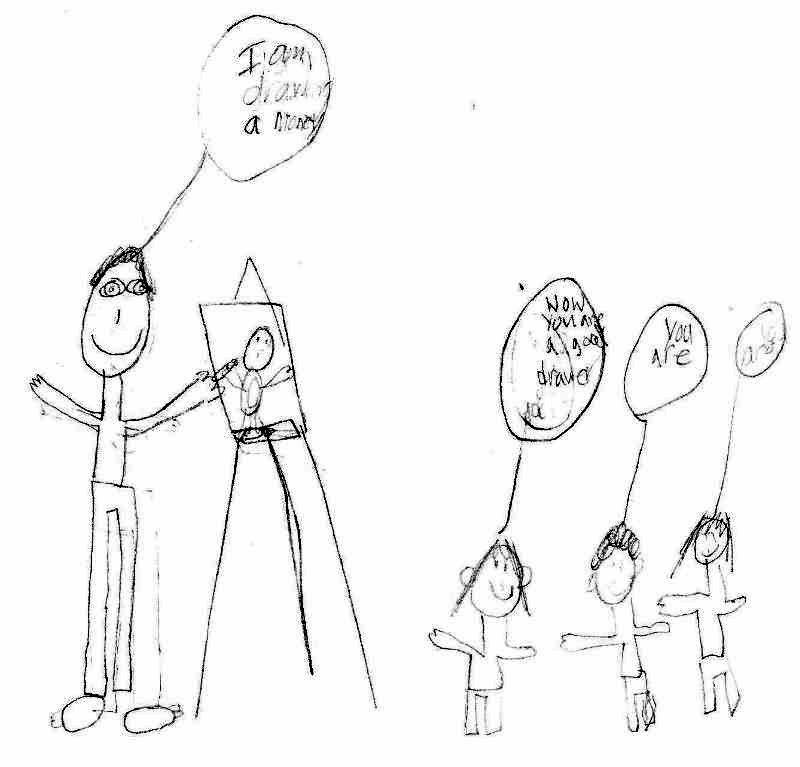 (This cartoon - by mono-named Elise - features the skinniest depiction of me that I've ever seen, so I had to show it to you. It
also has an ironic spelling mistake. Skinny-me is saying "I am drawing a Money." Hmm. More truth in that than I'd like to admit)

OK, now let me talk about
More Fun Comics
again. Just a little. One of the things which most interests me about the series is that it was so malleable. Unlike, say, the
Batman
comic,
More Fun
could, and did, feature whatever kind of story the editors thought would sell comics. In that way, it was not just a laboratory for the comics medium, it was something like the pulse of the industry. Well, maybe it was more like the pulse of the
editorial strength
of the industry. I mean, it was canceled due to poor sales, so it wasn't a pure barometer. Still, it fascinates me that
More Fun
was, using television as a metaphor, more of a TV
network
than a TV
show
. In a young, foundling industry, I suppose that made sense. While it may seem strange to put silly cartoony stories in the same comic as serious murder mysteries, the publisher and editors had little choice but to put all of their eggs in the only basket they had. If any of them hatched, then they were moved around to other titles or even into their own. Today, anthology comics (what few there are) are seen as the weaker, less impactful poor cousins of "regular" comics. Even at that, today's anthologies are more thematic. Every story within a title has some element in common. The last successful anthology was probably
Dark Horse Presents
, which, in many ways, was very similar to it's
More Fun Comics
ancestor. As
More Fun
gave us some of the most beloved characters of the Golden Age,
DHP
introduced new characters (like Paul Chadwick's
Concrete
) and new stories (like
Aliens vs. Predator
) which have dominated the industry in more recent years (Frank Miller's
Sin City
being arguably the most famous). Unlike
More Fun
, however,
DHP
focused more on quality rather than quantity. I'm not saying that there weren't great artists at work in the pages of
More Fun
, but here are the features of a typical table of contents from issue #25;
(Cover pic courtesy of the Grand Comic Database)

- Sandra Of The Secret Service
- Johnnie Law- Sam the Porter
- Jack Woods- Dr. Occult- The Magic Crystal of History- Spike Spalding- Ivanhoe- Hanko The Cowhand- The Brady Boys- Pirate Gold- Just Suppose- Pep Morgan- Barry O'Neill- Bob Merritt- Brad Hardy- Wing Brady- Mark Marson of the Interplanetary Police- Jest Jokes- The Three Musketeers- Woozy Watts- Marty McCann, Champion of the Navy- Little Linda- Radio Squad

All of this in just sixty-eight pages...and for just 10 cents! Whew! Wow, how times have changed! I don't think that I'm specifically nostalgic for those days (especially since my parents hadn't even been born at the time), but I'd love to see something like More Fun Comics produced today. Heck, we already have Free Comic Book Day (coming up on May 2nd this year), so maybe DC could have a More Fun Comics Day, where they could repurpose the venerable old title as a promotional introduction to the year's upcoming projects, selling it for a dime. Hmm. It's a thought. I'll be back tomorrow (I promise!!!) to wrap this month up, so I guess I'll just leave you with all but the last of your remaining More Fun Comics Characters of The Day - Jimminy Crockett, Sandy Keane of The Radio Squad, Doctor Occult, Biff Bronson, Superboy, The Masked Ranger, Pedro, Green Arrow, Speedy, King Carter, Bulldog Martin, The Spectre, Sgt. O'Malley, Detective Sgt. Carey, Wing Brady, Lieutenant Bob Neal, Lance Larkin, Clip Carson, Larry Trent of The Radio Squad, Dover, and Clover!