January 13 - Well...darn. I'm a little bummed out right now. I've just discovered that "they" (the people working for the International Wizard of Oz Club) are doing a new issue (or issues?) of Oziana, apparently without me. I was really looking forward to being involved in Oziana whenever they got it back up and going, but I guess I will just have to be happy with having been involved with the last three. Still, it puts an immediate - if minor - damper on my 2009. Oh, well. This actually brings up something interesting with which I've been dealing over the last year or so. My artistic "self-classification" has been in flux for some time. How long can I drag around vintage copies of The Adventures of Monkey from comics convention to comics convention, still claiming to be a comic book creator? At this point, it's a bit like claiming to be a champion basketball player because I was on a championship Summer League team when I was twelve (which I was, by the way). I guess the difference there would be that I haven't ever seen myself as being an athlete of any sort, while I've never considered myself as anything other than a comics "guy" (either as fan or creator). Whenever someone refers to me as an artist or illustrator, I cringe a little. Norman Rockwell was an artist/illustrator. At best, I'm a cartoonist, and even that is giving myself a little too much credit. So, what am I? As any long-time readers of The WOMP-Blog know, this basic question was foremost in my mind as I, nonetheless, attended two comics cons last year, which brings me to...

The WOMP-Blog's Biggest Stories of 2008

Number Six - Con-Fusion

Early in the year, I attended the (first annual?) Oconocon in Oconomowoc, Wisconsin. That was some old-school, comic bookish fun! As if part of some sort of flashback to the early 1990's, my Dad came with me, which was actually pretty cool. It has probably been fifteen years or so since he and I set up at a con, so I'd forgotten how much it meant to both of us. For me, it was just so cool to have the time to just hang out with him...all while trying to sell stuff, of course. We saw many old friends, made some new ones, and had many interesting surprises pop up during the course of the convention. I really hope that there are plans in the works for a continuation of this show. Wisconsin needs more of them, and so do I. How is it possible that Madison - a city famous for it's huge, downtown college (with an almost one-thousand-square-mile campus, and over forty-thousand students) - has never been able to put together a big annual show? Oh, they'll have dealer shows or book signings, but not (as far as I know) a real comic book convention. Kudos to Mr. Joshua Goes for leading the campaign to change that. Anyhoo, with no local shows, the fabulous M.C.B.A. FallCon has become "our" comics con. This year, with nothing more than a couple dozen new pieces of artwork for sale and otherwise the same old stuff as in years past, the beautiful WOMP Staff and I set up at the twentieth FallCon. That was so much fun. As always, we saw so many old friends and made a few new. We sold just enough stuff to pay our way (always a good thing), and I participated in just enough comics-themed events to feel like I "belonged" there. Different this year, however, was my new focus on other parts of my "career." In the most preliminary ways, I began to lay some of the groundwork for what I guess I'd call a "career maturation." You've already heard about some of that. Hopefully, by the next FallCon, I'll be able to tell you all about it (like I said a few posts ago, I've decided to play some of this close to the vest until it's more "certain"). Until then, I can tell you that my plans for that mysterious "book" are only part of what I've got in the works. Just in case you are thinking about attending, here is some information that the MCBA folks have just sent to me;

MCBA FALLCON COMIC BOOK CELEBRATION

Saturday & Sunday, October 10 & 11, 2009 - 10AM to 5PM Both Days

Minnesota State Fairgrounds

1265 Snelling Ave

Saint Paul, MN. 55108

E-mail;

Myspace;

Facebook;

Comic Art Fans;

Website;

Yep, even though I had a fairly low-profile at each of those two shows in 2008, what they might represent to my future plans makes them one of The WOMP-Blog's biggest stories of the year!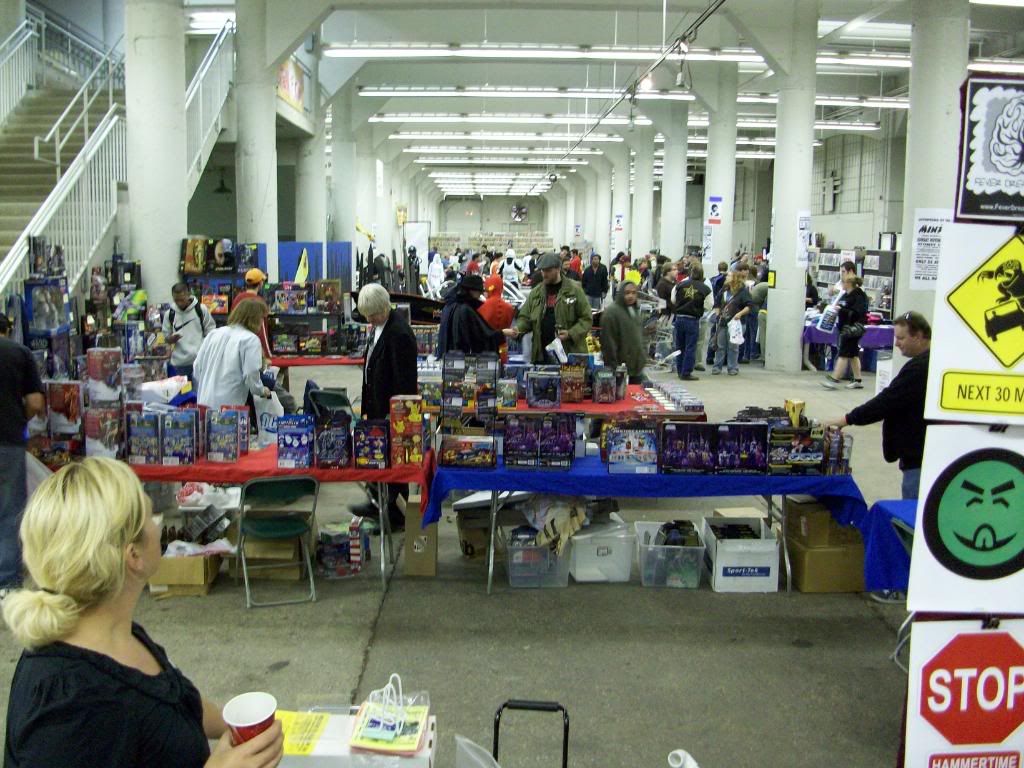 (here's a view of the front row of 2008's FallCon booths. It's the
only con I know of that puts dealers next to exhibitors next to
guest creators, etc., making for a lot of fun!)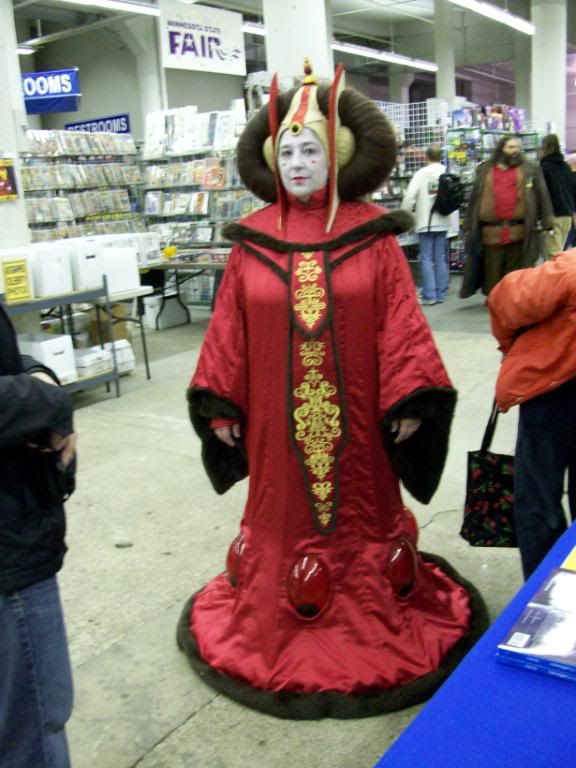 (there were a lot of costumed attendees at 2008's FallCon, including
this stunning - if a bit more mature - Queen Amidalla, and the
awesome Hagrid seen wandering into frame behind her)
_______________

And so it goes. Of course, as the Oziana-revelation has shown, plans can sometimes change. We'll see, I guess. Now, get out of here. Before you go, here's your Dead Comic Book Character of The Day - Jonah Hex!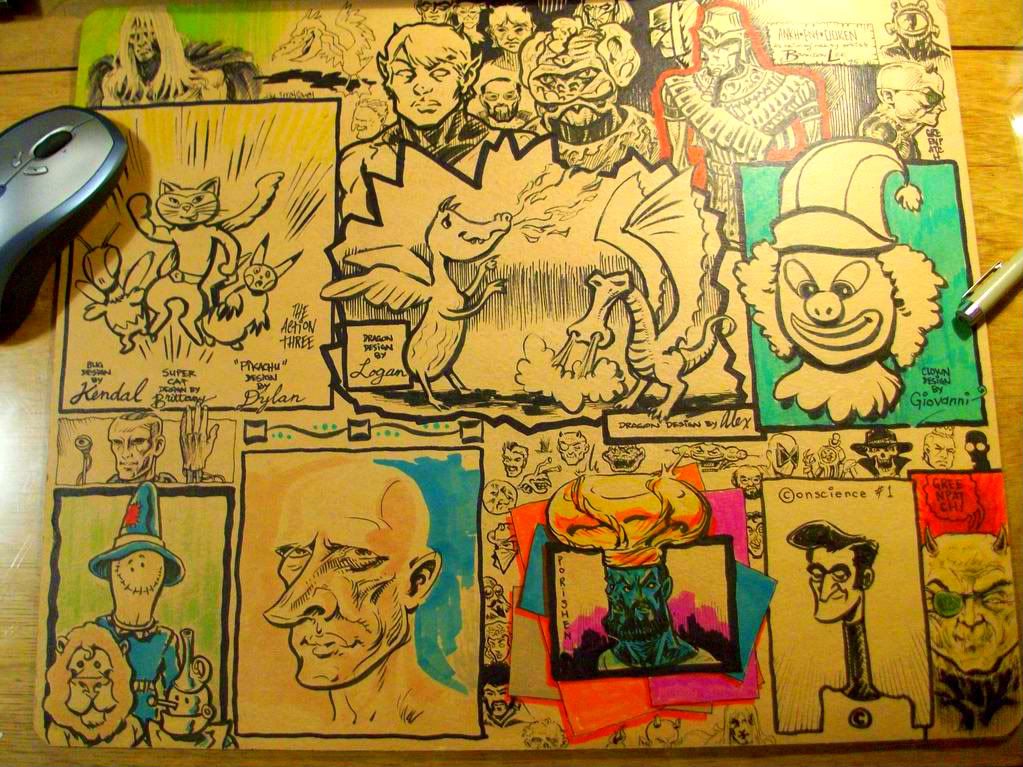 (WOMP-Blog Archives EXCLUSIVE: Here is the other side of my current mousedoodlepad.
The featured figures through the center are based on the gift-drawings given to me by the
students of Endeavor Elementary School. Toward the bottom right corner, below the clown,
is the skull-faced Phantom that I drew right before I had my fun "head-thing")