January 12 - Yippee! COMICS! I recently had a serious yen for new comic books, so I turned to eBay to scratch my itch. I would have gone to my local comics shop, River City Hobbies of La Crosse, but it has closed (supposedly temporarily, but, in this economy, I'm not optimistic). And it would be hard to call it my "local" comic book shop anyway, since it is sixty miles away. Of course, Comic World in Dubuque is also sixty miles from WOMP Central, but in the opposite direction...in Iowa. Yikes! Seriously, though, I am just more familiar with La Crosse. ANYHOO, the eBay comics came in today's mail! Well, to call them "new" is a bit charitable. The most recently published among the thirty or so comics is the final issue of DC's 52 from 2007. Most of the books are from the late 1970's and early 1980's. That's my favorite era, I guess. It's not like I'm really stuck in that time period as much as it is that I have a fondness and appreciation for the kinds of comics they made back then...that, and they are usually pretty cheap. Most can be bought for a quarter of the cover price of new comics, especially if condition is not really important to you. Let's see...I got issues of Claw, The Unconquered, Beowulf, Ragman (a Joe Kubert superhero comic!), Starfire (the hot Mike-Vosburg-chick version), Showcase, Green Lantern/Green Arrow, The Many Ghosts of Dr. Graves (great Ditko story/art), The House of Secrets, and Wonder Woman. Not everything was from the Disco Era, though. From the 1990's, I got several "Vertigo Visions" books, including re-imaginings of Prez (Eric Shanower art!) and Doctor Occult. From more recent times, I also purchased some trade paperbacks of titles I've never read (but should have), including Bill Willingham's Fables. Yep, I've got hours of reading ahead of me...not to mention hours of drawing! Whenever I get new comics, I'm just naturally inspired to draw some character or feature from within them. I've already drawn Prez, The Mad Monk, Solomon Grundy, Itty, and Doctors Graves, Robot, and Occult. I also drew forgotten Wonder Woman villain, Armageddon...all on my "mousepad." You see, I use large pieces of old artboard for my mousepads, and, over time, I doodle on both sides of them until they're "full." Then it's time to start a "fresh" one. My current mousedoodlepad is about 80% filled.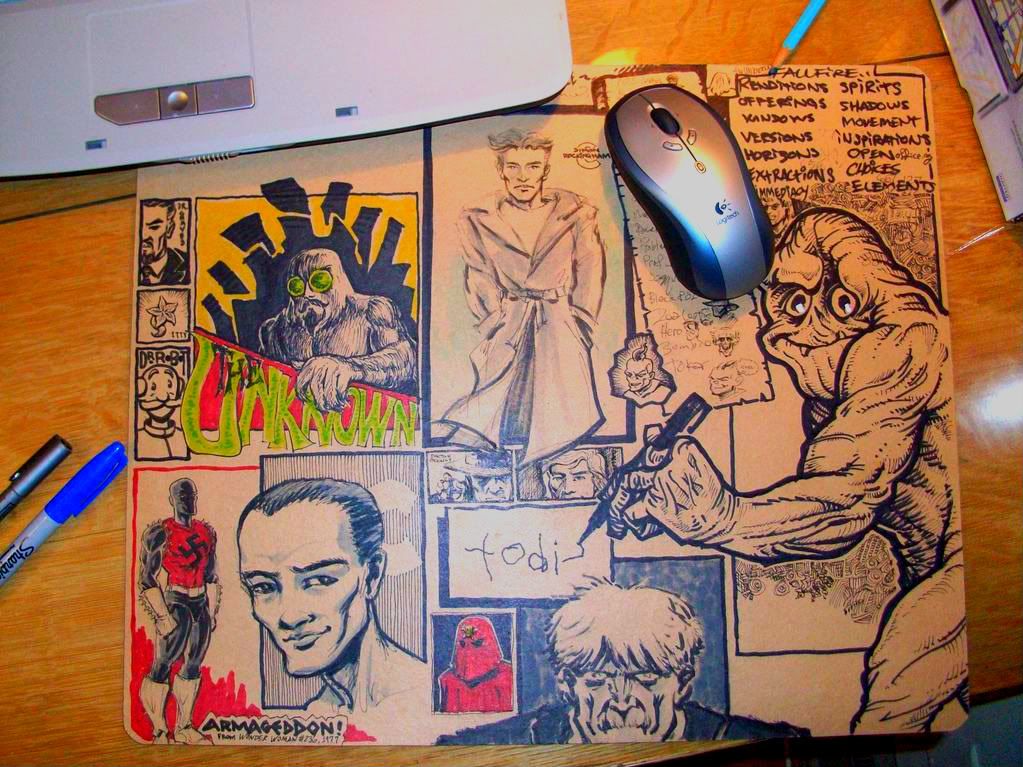 I have "completed" twelve of these since I began the practice about two years ago. I have no idea why I'm saving them, or what I'll do with them, but, well, I never really throw anything away, especially not artwork. Maybe someone will want them for something some day. I guess it's just another example of the kind of oddball art projects that are...

The WOMP-Blog's Biggest Stories of 2008

Number Seven - For Art's Sake

Did you know that I once used to create comic books? It's true! Oh, they were crap, but at least I once actually did - briefly- what I'd always dreamt of when I was a kid. Now...well, now I find myself involved in all sorts of weird artwork projects. In 2008, I kind of did everything
but
draw comics. Oh, some of it was comic book related, like my cartooning "lectures" in Endeavor, Wisconsin, or my "Done In One" make-a-comic workshop in Delavan, Wisconsin. I also created a ComicSpace page for myself, which is, at least in part, comic booky. Mostly, though, I did other stuff. For about the fifth year, I drew caricatures for MANY local events (some for $$$, some for charity), and, for the
twenty-first year
, I designed the sets for the local middle school play. I had many strange commissions (my most memorable assignment? That's easy; "three Army guys hunting terrorists"), and I drew some even stranger stuff just for myself. On top of all of that, I hosted the fifth annual
Fallfire
contest. With the addition of the
Fallfire: Reflections
gallery show afterward, it was easily the best year yet (less quantity, but much more quality). I've never really thought of myself as an "artist" in the traditional sense, but, looking back, I am surprised by how Art-filled my year really was. In fact, I must now confess something; for the last few months of 2008, three of my original drawings were hung in a local art gallery. Really! I didn't mention it because, well...I was/am pretty embarrassed. I mean, there they were, the original cover illustrations for
Continuity Crisis
and
Tales From The WOMP-Blog
two and three, displayed in the same vicinity as fully painted works and original photographs of Martin Luther King, Jr.. Ugh! What was
my
junk doing there? Well, I guess that I may be an "artist" of some sort after all...much in the same way that a marshmallow is technically "food." Hmm. If 2008 has taught me anything, it's that I should probably always follow where my "art" leads me.
(these are the Fallfire 5 Art contest winners)

(have you seen this yet? It's my "official" cover for that Delavan "Done In One")

(this is a bit of Fallfire: Reflections)
(this is probably my favorite 2008 illustration, drawn for a magician)
_______________

Gotta go. Here's your latest Dead Comic Book Character of The Day - Elektra!