October 24 -
Heya! I hope you all had a great Mole Day yesterday (more about that
here
). Now, here's some more 2008
FallCon
convention report...
And I Shall Remain...The FallCon-er!

Part Two - I Am Iron(ic) Man

With no new products to promote, I spent much of the convention making "contacts." Sort of. Mostly, I just wandered around, looking for old friends. And I found them! The Staff and I came across befezed Mike Toft at the table for the local chapter of the
International Cartoonist Conspiracy
.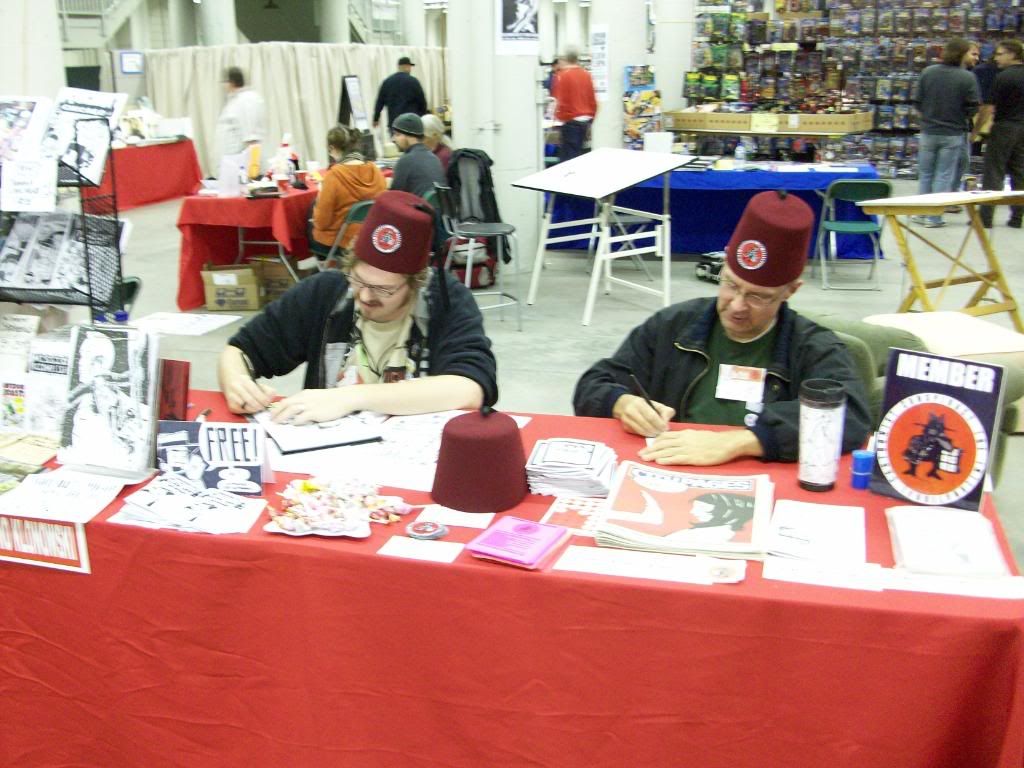 Mike's the best, man. His mini,
Brain Food
, has just hit lucky number thirteen, delivering more subversive political and social satire (or however you'd describe it...it kind of defies easy explanation). Later, we ran into roving
Jazma Online
interviewer, Allen Klingelhoets, to whom I had to apologize for not returning his latest e-interview. Sorry! It's coming soon, Allen. I promise! The Staff and I also sought out former booth buddy Maxxx Madcap, the Grand Poo-Bah of
Funny Bone Productions
.
In addition to his usual nutty gag-panel limited edition prints and such, he was drawing caricatures and selling two special full-color '08 Presidential Election prints. The better selling print by far was, understandably, Barack Obama as
Captain Omerica
. Less popular was the
adorable
Sarah Palin as superheroic
Josephine Six-Pack
. In a fit of impish generosity, Maxxx gave us a signed copy of "Josephine" for our collection. Thanks? And, as far as finding the tables or booths of old friends, that was about it. As I mentioned, the show was jam-packed with guests, so we didn't really have much of an opportunity to seek out anyone else, although we did stop very briefly at artist Brent Schoonover's table. He's a fantastic artist, perhaps best known for the comic book
Horrorwood
(Brent's site is
here
). Otherwise, my only other trip away from the WOMP (half)table was to speak to comics legend Howard Chaykin!
(I forgot to get a photo! This image is from Wikipedia)

Look; for whatever reason, I've become peripherally involved in the history of Crusty Bunker, so I could not pass up on the chance to speak to someone who was not only there when it all began, but - after Neal Adams - was one of the most important forces behind the whole story. But...well, he's sort of a hero of mine, so I was pretty nervous about approaching him...especially regarding a subject which may bring up unpleasant memories. Still, I knew that I
had
to do it, if only because I'd have kicked myself forever if I hadn't. Besides, Walter Simonson told me to do it. So, off I went, leaving behind a note saying "BACK IN 10 MINUTES" and the incredibly patient (saintly, really) WOMP Staff. Fortunately for me, when I got to Mr. Chaykin's table, one-time booth buddy Jeff Rose (curator of
The Official Alex Toth Website
) was also waiting to talk to him. We stood there for a bit, catching up (he had another daughter - Veronica!), and even chatting with cartoonist
Zander Cannon
and some of his family, until suddenly, we found ourselves alone with Howard Chaykin. We introduced ourselves, and each made our requests to pick Mr. Chaykin's brain. I don't know why I was so afraid. Mr. Chaykin was a gracious, gushing font of knowledge and opinion! For over an hour, the three of us (and another guy who, about midway through, also stopped by) talked about all kinds of things; the past, the present, books, original art collecting, old movies, new movies, old-time illustrators, current illustrators, and how we are now living in the age of irony. He laid out his belief that a lot of what people do is now done ironically. For example, he asserted that a man could not wear a fedora without the act being an ironic reflection of a long gone time when people might have worn such a hat "genuinely." As he explained his views, I stood there listening, adding my two cents, and agreeing...all while sporting a 1930's haircut and a big, bold necktie. In fact, with my own fedora waiting for me back at the WOMP table, I realized that I am Ironic Man! I've immersed myself in elements of the past for much of my life. Early on, it probably
was
done with a sense of irony. Today, though? I don't remember anymore. It's just how I roll, man. I
can
tell you this; I no longer wear an old style of hat, or wide tie, or whatever, in some kind of effort to seem like a retro-nut. These days, I just wear that kind of stuff because it's my clothing. I do try to "dress up" nicely for comics conventions, but that's more to do with a level of respect that I hold for the whole comic book business
as
a business than with some sort of attempted hipsterism. The thing is...well...a lot of the other guests wear the same things. In fact, in our little row, just booth-buddy GK3 was tieless. Back in the day, only the enigmatic
Matt Feazell
and I wore anything other than hooded sweatshirts or screen-printed tees. At this year's FallCon, I noticed that even the T-shirts were worn ironically in an environment where images of Spidey or Batman should be authentically embraced, not artificially "aged" to look vintage and hip. I'm not sure how I feel about all of that, but I definitely noticed it. And so has Howard Chaykin, so we had a very lively discussion about it all. And about the Crusty Bunkers, of course. After thanking Mr. Chaykin profusely, Jeff accompanied me back to the WOMP table. "You are so lucky, John, to have a wife who tolerates all of
this
," Jeff said while motioning liberally to the costumed fans, boxes of comics, and happy nerds. And I am. There she was, sitting patiently behind a sign that had been amended to read "BACK IN
100
MINUTES!" Ah. Is it any wonder I love her? More later, including some shouts out (or shout-outs?) to folks who stopped by the WOMP table to say "Hi!" Here, just to get caught up to some of what I had planned before getting sick, are what should have been your
Comic Book Politician Characters of The Day
for
- the 8th -
District Attorney Harvey Dent,
and
the 9th -
President Mon Mothma!