October 19 -
Well, that took longer than I had hoped. Thanks to my weird medical situation, I've been "out of it" for, well...half a month, really. Tonight is, in fact, my first "normal" evening since about the 7th. Sigh. But
enough
with that. I am
so
ready to move on. Step One? Skip the "Comic Book Politicians" for right now. Before I had my head-thing happen, I'd only recalled enough characters' names to fill my list up to October 11th, so I don't even have enough to catch up with right now anyway. Step Two? Get right to my 2008
FallCon
report, which I'm calling...
And I Shall Remain...The FallCon-er!

Part One - Pro Con

Never before have The WOMP Staff and I made it from our homebase of Prairie du Chien, Wisconsin, to FallCon in St. Paul, Minnesota in such record time. We hit the Sate Fairgrounds an entire hour earlier than we'd hoped, and we were running late when we left. The extra time gave us the opportunity to leisurely set up the - well, let's just say it - shopworn old stuff that I'm still trying to hawk.
Sigh. With the exception of some new pieces of original art that I was offering for sale, the only things that were "new" on our table were the Twizzlers and other candies that we gave away. As you may recall, I had planned to have some new
Tales From The WOMP-Blog
freebies at the very least, but, well...that didn't happen. Oh, well. In the long run, I think that made the show a lot less pressure-filled for me. Without ANYTHING new to promote, I could get some other business done. I've always wanted to attend a show as if it were a "standard" industry convention. You know; like with seminars, product demonstrations, conferences and such. The Staff (my lovely, yet nameless-in-my-posts-per-her-request wife) also had plans. In her capacity as a daycare teacher, she had been entrusted with a "Flat Stanley" from her kids. The little cut-out had visited a farm and a doctor (which was cool, I suppose), but she thought that Stanley would also like to take in a real comics convention!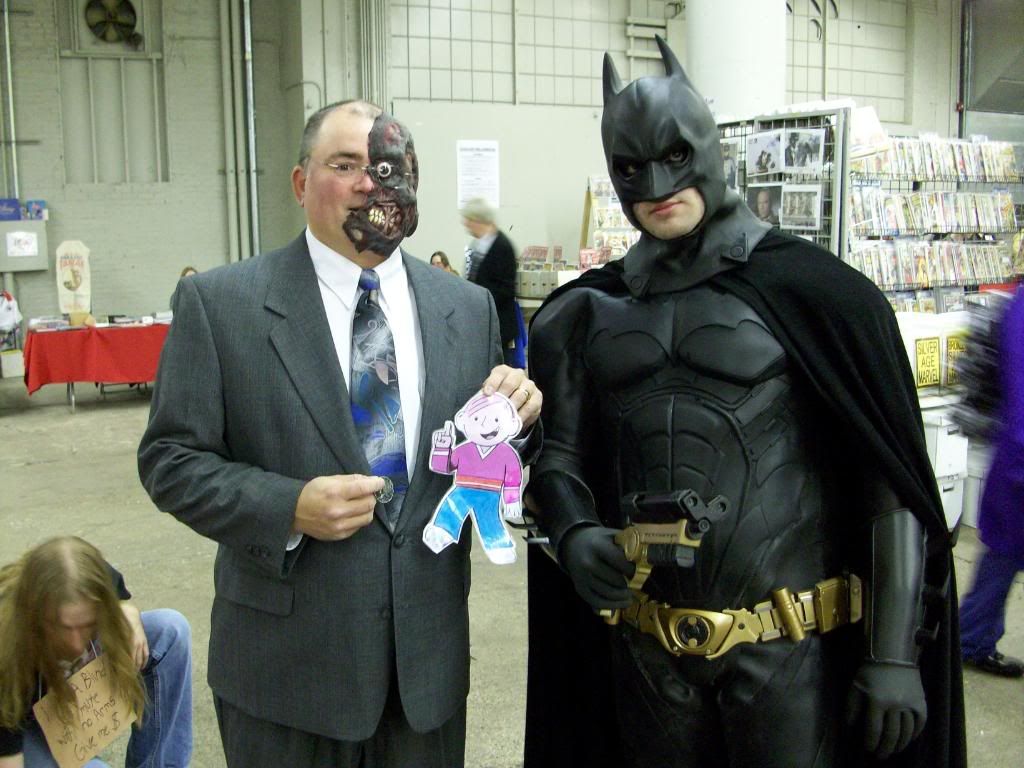 And this year's show was certainly "real." Side note; shortly before FallCon, I happened to read Johanna Draper Carlson's
Comics Worth Reading
blog when she mentioned that she'd never even heard of FallCon. Shocked, I just
had
to
respond
, defending what has become
"my
show." She noted that FallCon is amongst several "regional shows that don't make it to national awareness," especially since "it's scheduled against another good show," namely the totally awesome SPX (Small Press Expo), not to mention Mid-Ohio Con. Of course I understand that FallCon is mostly a regional draw, but I hadn't thought of it in those exact terms. To me, FallCon
is
one of the "big" ones, albeit about number twelve on that list. It never occurred to me that someone in the extended comics biz wouldn't have even heard of it. That's a shame. This twentieth annual show, held in the vast Grandstand building, was one of the best cons I've ever been to (and I've been a con-goer since 1982). For the first time, I just flat-out couldn't even see most of it. There were tons of dealers, small press, big guests, and all sorts of fun things happening. They also had this great giveaway deal goin' on. Hundreds of hand-drawn trading cards, from artists of all levels of renown, were given to attendees.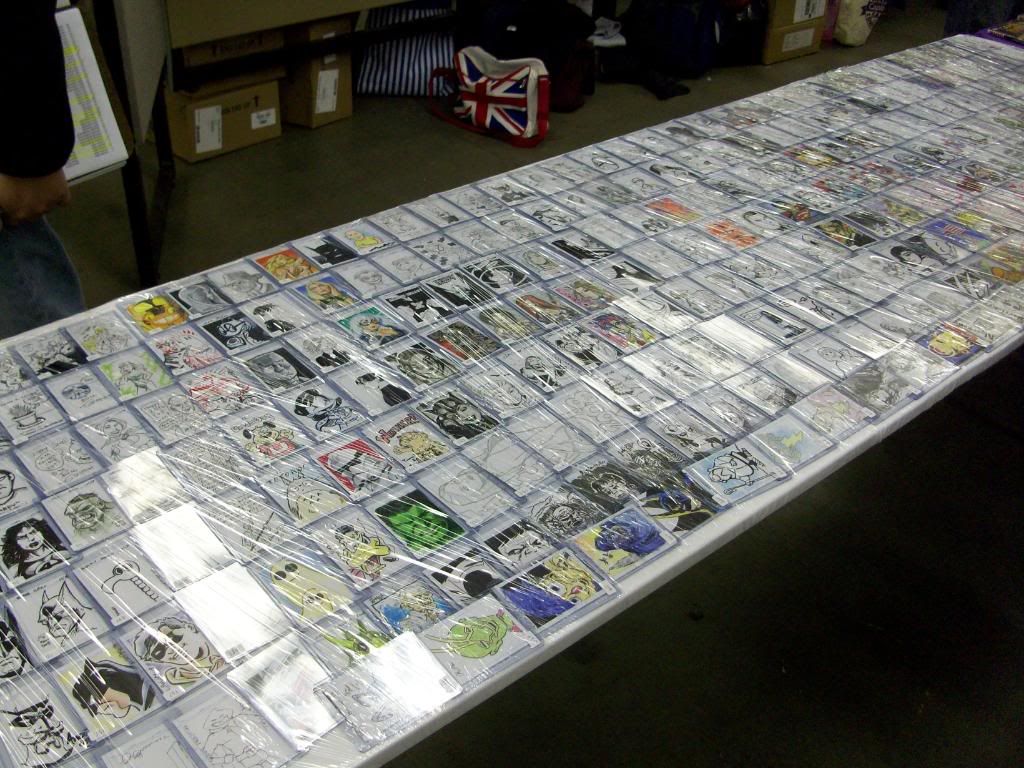 I drew five of the cards, including artwork of
Mutate
, one of my own characters.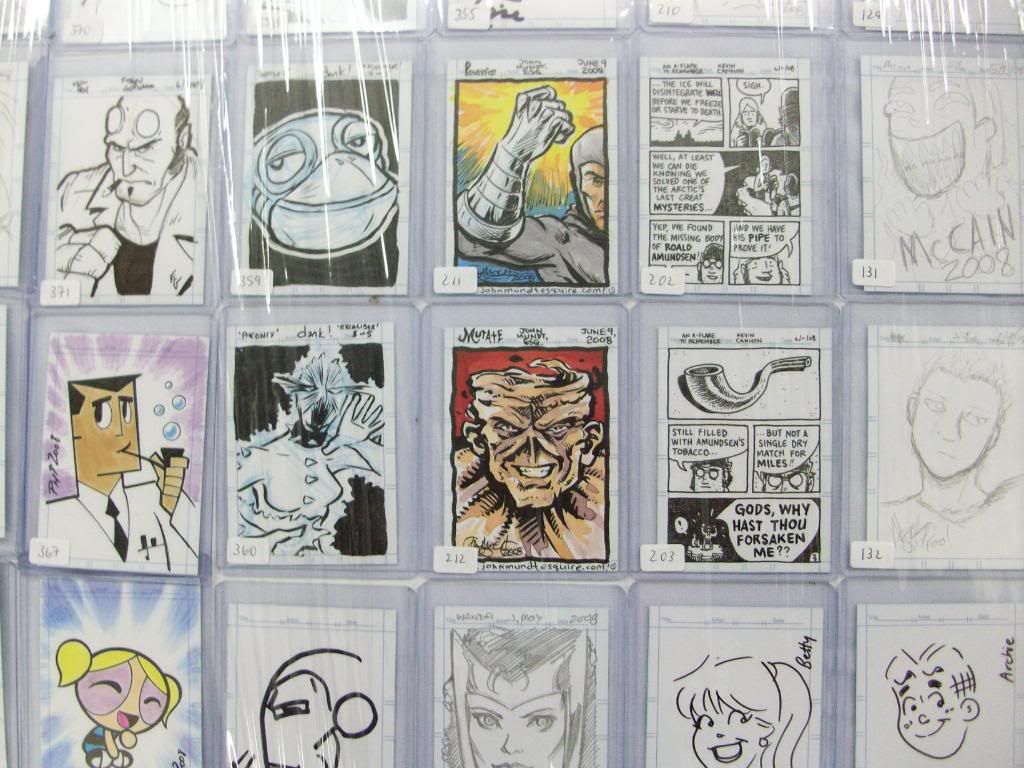 For the next few hours, you could even purchase it, thanks to an
eBay auction
! More on that later. This year's FallCon featured, like those of the past, a great mix of guests. Our WOMP (half)table was in a great location, just around the first corner to the left inside the front gate. Our "booth buddies" included old friends Chad Corrie and his dad, Lee
(
Chad's site
has a FallCon review, too),
the mysterious GK3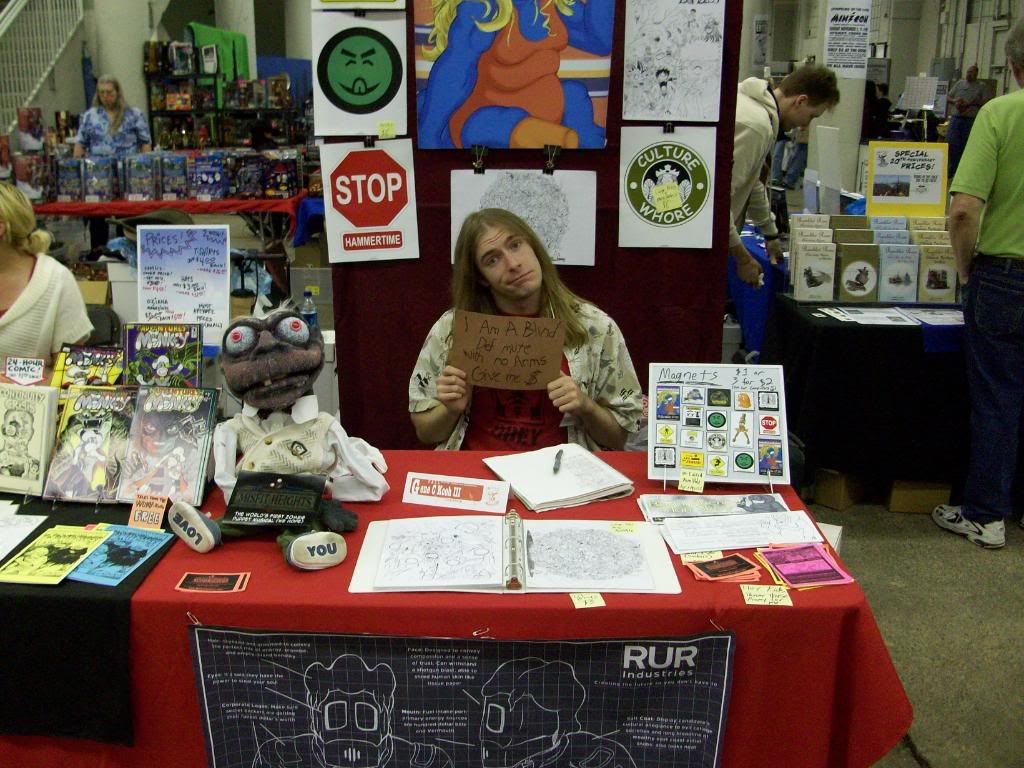 (cartoonist/creator of truly funny
on-line comic strip
,
The Bad Influence Man Show
),
and the amiable Nathaniel Hicklin, author of the book
Seekers of Truth, Part 1: Confluence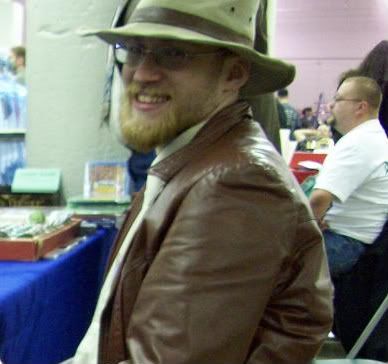 (Nathaniel also has a
web-site
).
Good neighbors make for fun days, so we had a LOT of fun. More report later. For now, it's time to leave you...and -
what the heck
- here's what was supposed to have been your
Comic Book Politician Character of The Day
for
- the 7th -
Secretary Amanda Waller!