August 14 -
When last I left you, I had taken you to the Dover, New Jersey, door of the Joe Kubert School on the first day of the 1984 school year . Well, actually it was the door of The Mansion at 45 Lehigh Street, which, until that year,
had been
the site of the school, but had just become housing for Kubert School students...of which I was the very first to check in.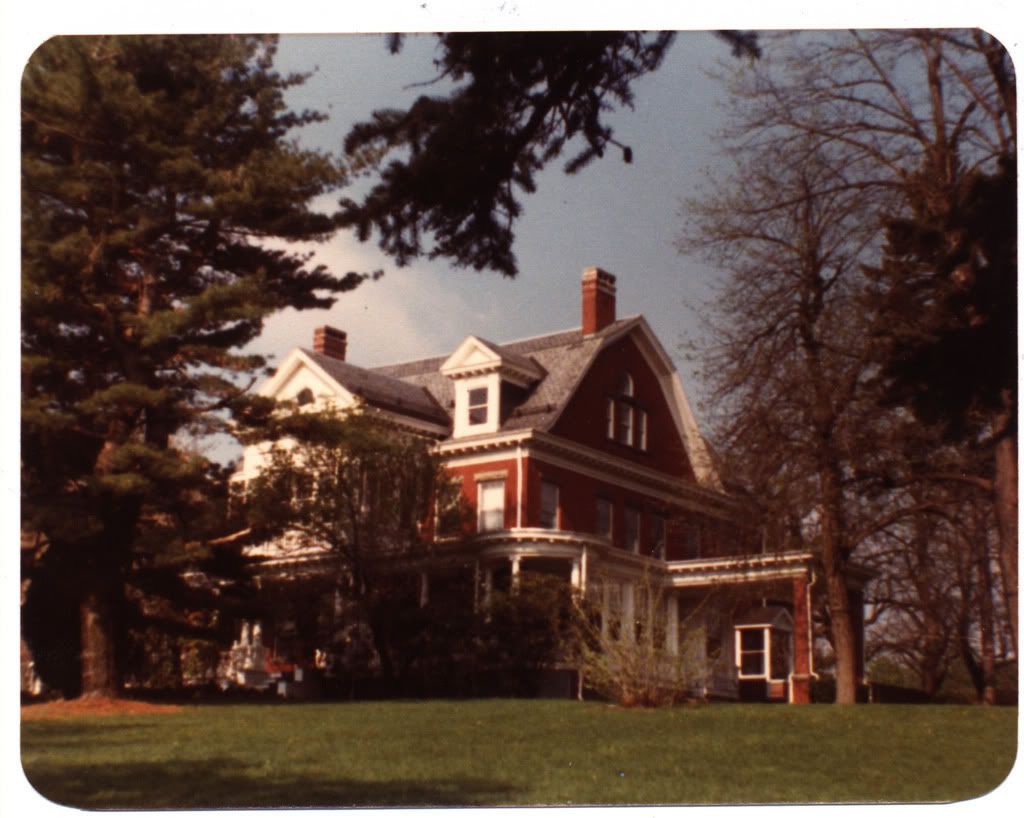 (vintage photo swiped from Stephen Bissette's
Myrant
blog. Click
HERE
for more)
My Mom and Dad had driven cross-country to drop me off, so, in true Mundt Family tradition, we'd arrived hours and hours early. We met Don "Somebody" (oops...that's the first name I can't remember), who was both a third year student and The Mansion's equivalent of a Resident Assistant. Don was a pleasant, older guy (probably no more than 40), who somewhat resembled a bespectacled Jim Henson, and sounded like Fozzie Bear. Don explained that there were no assigned rooms. It was first come, first served, so I was able to pick which room I'd call "mine" that year. The Mansion is huge. It has three full stories, a super-secret attic, an at-that-time-completely-filled-with-garb
age basement, and even a complete servants' section (where Don, and another R.A. - whose name has now also escaped me - lived), conveniently hidden in the middle of the building (sorta-secret passages and everything). The woodwork of the staircases and first-floor doorways were about the only interior hints that this was once a jewel of Victorian opulence. The walls were a flat white, and had clearly been recently stripped of framed pictures. The first floor, with the exception of a room with pocket doors (and the off-limits R.A.s' quarters), was completely devoid of any furnishing of any sort. The second and third floor rooms were nearly as empty, each having just an assortment of brand-new single beds (and that's all that was in that pocket-door room, too). The top story was mostly one huge room, marked with rows of beds, reminding me a bit of a Dickensian orphanage. That didn't seem too nice, so I moved on. Other rooms had fewer beds, but either no closets or less privacy, or were otherwise just too uninviting. Then I found a second story, corner room with just two beds (the only room with that few). It had a large closet, enormous built-in storage drawers, and it's own sink! It was right at the top of the stairs, yet just off to the side. Best of all, it was right across the hallway from the communal bathroom and showers! Sold! I moved right in, taking the bed furthest in, next to a window overlooking The Mansion's driveway. As the day progressed, the other rooms began to fill, all with first year students like me. It wasn't long before I had my (first) room-mate, Dave Weiser, of Chicago. It was a great fit. Both of us were Midwestern kids, although he was the city mouse while I was basically the country mouse. Dave was a lot of fun, a very good artist, and a huge comics fan (not necessarily a trait shared by every student, as I found out later). Eventually it was time for orientation at the new home of the school itself, the former Dover High School building downtown.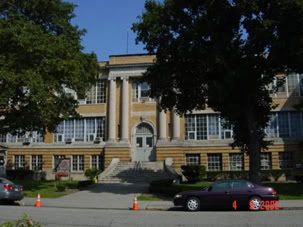 The structure is an impressive, W.P.A. Era building, so stereotypically a high school that it has been used as such in several films and music videos (Eddie Money's
"Wanna Go Back"
video had just been filmed there before school. Set decorations were left in the old boys' locker-room for months). The walls were decorated with framed original comic book and comic strip art, some of which is still the finest I've ever seen in person (two that come to mind; an Alex Raymond
Flash Gordon
Sunday page, and a Raeburn Van Buren
Abbie an' Slats
strip). The first rooms, facing the street, were the offices and the art supply store. Straight in, through otherwise always closed doors, was the auditorium, where we were to gather to be welcomed by Big Joe himself. I bid my folks goodbye, and, tingling with anticipation, walked up the stairs to my exciting future! More later. Here, then, are
John's Joe Kubert School Classmates of The Day for - August 12 -
Joey Martinez,
August 13 -
George McClements
,
and
August 14 -
Charlie Nappa!