August 11 -
Isn't this supposed to be Kubert School Month? Here we are, eleven days into August, and I've done little more than briefly mention the
JKSoCaGA,I
(that's the "Joe Kubert School of Cartoon and Graphic Art, Inc." for all of you...you...well, we call you "normies"). While I do have a lot of other nifty stuff to tell you, I'm going to put it off so that I can finally delve into the subject at hand. So, where did it begin? Well, Joe Kubert, widely recognized as one of the greatest comic book artists of all time, was also one of the most important editors in the history of DC Comics. In that capacity, he recognized both the growing need for fresh, well-prepared talent in the industry, and the growing number of young artists who dreamed of a career in comics. Seizing upon this, in 1976 he started his own school. This was no small task. Beyond creating courses and hiring teachers, the school needed a physical location. I imagine that a major chunk of the Kubert family's savings and several years of very high mortgage payments were needed to buy the school's first location, an enormous Victorian Era mansion on a hilltop overlooking Dover, New Jersey. The Mansion's grounds also included a carriage house large enough to serve as a dorm for some of the students. The final-first step, then, was to advertise. Any kid reading comics during the late 1970's through 1980's will remember those ads, and that iconic image of Tor, moodily slouched in front of a tree.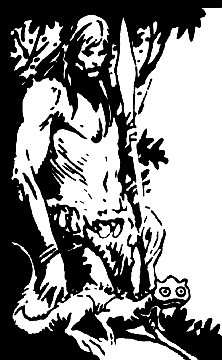 That is (or at least was) the logo for the school itself, and it appears on everything "official." That's where I come in, less than eight years after the
JKSoCaGA,I
was founded. I don't know when I first saw that image, but I do know that it stuck in my mind. Throughout high school, Tor seemed to be sadly wondering why I hadn't the guts to follow my dreams. In fact, Tor seemed to be
pitying
me for the mundane, comicsless life that I was preparing to accept. Never,
never
did I believe that I'd one day really create comic books, nonetheless attend the world famous Kubert school. Finally, in 1984, as a high school senior, I decided to take a chance. If Tor was going to look down on me from his leafy perch, he was going to see me trying to climb up toward him. I applied to be a First Year Student for the 1984-1985 school year, and, to my surprise, I was accepted...almost. You see, before I was to be officially enrolled, I had to survive one last crucible (well, two; I also had to get a massive student loan...but that's another story). As a prerequisite for acceptance, one had to first be acceptable to Joe Kubert himself. It makes sense. Joe had/has a reputation to cultivate for his school. So, a phone interview was set up. I was so excited and nervous that I actually tape-recorded the whole thing! I'd like to say that I did it for posterity, but it was really because I figured that it was as close to being part of the world of comics as I'd ever get, and I wanted a keepsake of the event. At the appointed time, the phone rang. After answering, a booming, jovial voice coursed through the line "Is this John? Hello! This is Joe Kubert!" Joe proceeded to talk to me about my portfolio, submitted as part of my application. It was
beyond
embarrassing to discuss my pathetic scribbles with the guy who drew Sgt. Rock, but I did it anyway. Joe even complimented me on my John Woe comics, which I'd tossed into my thin packet of artwork just to pad it out. He said that surprisingly very few applicants include any sequential art in their portfolios. Looking back on that art, and my "interview," I have no idea why Joe greenlighted my admission, but he did. Did he see something in me that I didn't (and still don't, frankly)? Did he believe that even an idiot like me could be taught? Maybe he just believed that, because my student loan was approved, I wouldn't default on the tuition. Whatever it was, a short while later, I found myself in New Jersey, standing at The Mansion's front gate, staring at a sign for the Joe Kubert School of Cartoon and Graphic Art, Incorporated. I've never seen Tor look more surprised! More later (although you can learn more about
JKSoCaGA,I
by clicking
HERE
). Here are tonight's
John's Joe Kubert School Classmates of The Day for - August 10 -
Steve Lipsky,
and
August 11 -
Chuck Marchegiano!