June 25 -
So, what happened with my sister and her family? I sort of left you all hanging on that one...as did the flooding, the threat of which changed by the minute. Well, as of now, the water subsided enough that they only had to live in a hotel for a couple of days. They are very lucky, really, because their house still has working electricity and plumbing, and is still standing where it is supposed to be. I'm sure that you all saw those houses floating away on the news a couple of weeks ago. Those were just a few miles from my sister's place, so that isn't as far out as it may have sounded. In fact, while the story of this "500 year flood" then moved to Cedar Rapids and below, it all started right here in Wisconsin, where it struck the area around Wisconsin Dells. As you may remember, the lovely WOMP Staff and I were in The Dells about a month ago, just a few days before disaster struck. Recently, our curiosity finally got the best of us, so we wandered back to see what might have changed. Holy smokes! The damage, even in a city designed as a theme park, was dramatic. Bridges have collapsed, roads have disappeared right along with those homes, and the usual Summer crowds were, instead, sporadic handfuls of lookiloos like us. Most shocking for anyone who has ever been dragged to The Dells as a kid (which is nearly 100% of the upper Midwest population) is that Lake Delton is gone. Gone! Oh, there is still a trickle of water leaking through the dry basin (I suppose that it used to feed the lake), but it is now essentially Wisconsin's newest desert. Even though it was a scramble, both The Staff and I climbed down the scaly banks to walk around on the lake bed where once, many feet above, elaborate water-ski stunts were performed by The Tommy Bartlett Show for 54 years (this would have been their 55th). Standing on that surprisingly clean sand, next to lonely, scattered ski-ramps and faux pirate ships, was one of the most surreal experiences of my life.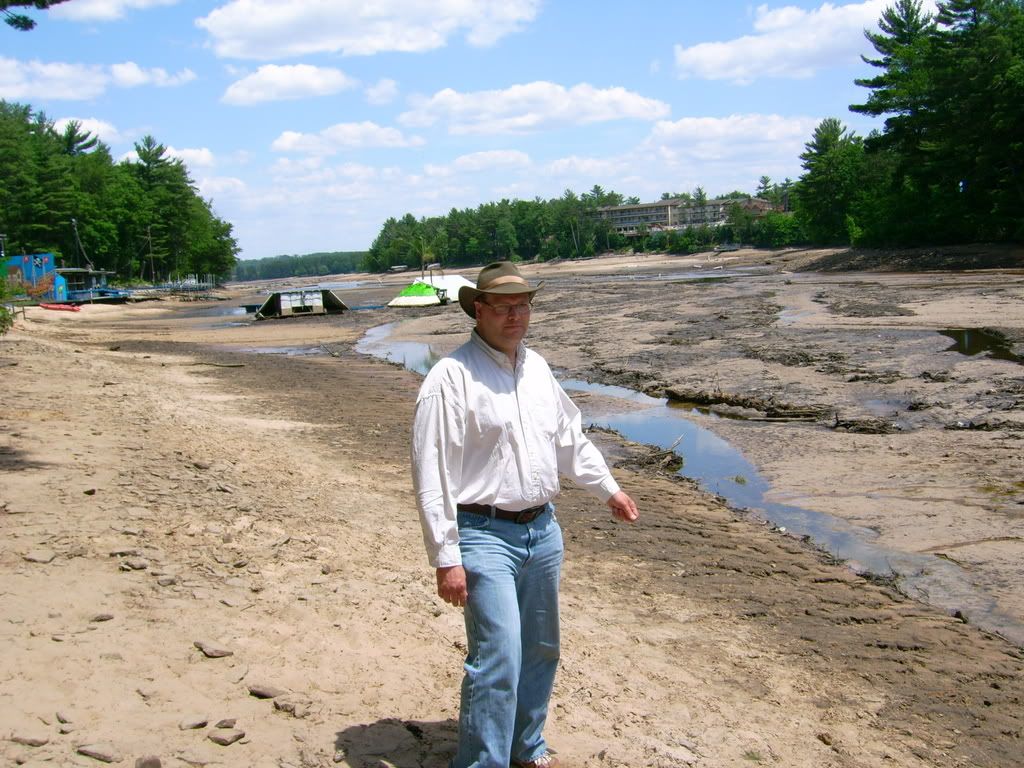 I know that this may sound silly, but both of us felt so bad for everyone that we decided to make a complete day of our trip, acting as if we were, well...tourists. We ate in a lakeside restaurant, played mini-golf at an elaborate lakeside course, and went on a lakeside trail ride. Yes, that's where I rode a horse. Beforehand, the trail guide warned us of how sore and stiff we'd all become, but that never happened to me. While The WOMP Staff did suffer some bruising and stiffness, I was shockingly OK. I found out that I'm a natural horseman, maybe because I'm descended from cowboys. The ride wandered over hills and past canyons for about an hour or more, giving us a beautiful, restful view of both the natural scenery and the frenzied recovery construction. We ended our day by actually shopping downtown, where I spent and astounding $14.00, a truly shocking amount for a cheapskate like me. We left after a full day of touristing, happy to have helped in some very small way. If any of you are considering taking a similar trip, I do have some advice for you. First, there are police officers EVERYWHERE there. I'm not saying that I, or you, would have planned to do something illegal, but, I suppose due to the threat of looters, you should know that there is a cop car on nearly every corner (so DON'T SPEED!). Second, the hotels around former Lake Delton are, understandably, offering great discounted rates for a stay, especially on weekdays. Next, the Tommy Bartlett folks still have shows, albeit without the water-ski parts. Finally, please keep in mind that Wisconsin Dells takes VERY SERIOUSLY the state law about pedestrians in a crosswalk having the right of way. Be very aware of people suddenly stepping out in front of traffic. While The Staff and I had no problems with any of that, we saw some close calls as we walked around. Otherwise, stores are having lots of sales, the crowds are small, parking is plentiful, and the friendly people there are having a hard time right now. OK. Now that my Dells Area Chamber of Commerce message is over, I'll leave you with your
Scarred Comic Book Character of The Day for -
Callisto!