June 18 - I've begun this WOMP-Blog entry many times over the last couple of days. Each time, the furthest I've gotten was this...

"Hey there, everyone. Thank you all for your support over the past two weeks since my Dad, Kelly Mundt, died. It's been like a long, terrible dream, but your kind words of concern have made everything just barely tolerable. To know that so many people loved Dad has..."

...beyond which I guess I've not been able to continue, at least not in any way that seems "right" to me. Honestly, even the act of merely thinking about the WOMP-Blog feels a bit selfish, so the concept of further trivializing my Dad's passing with some sort of florid gobble-de-gook blog posting just seems inappropriate. And yet, I really do want to talk about Dad here, especially since for decades he accompanied me to many comics conventions, at which you might have met him. In fact, in every way, and at every step, Dad was instrumental in supporting all of my cartoony ventures. Whether it was sneaking me in to his workplace late one night in 1982 to photocopy my first "real" attempt at producing a comic book (the terrible Premium Comics #1, for which I did purchase the paper at least), driving me from Wisconsin to New Jersey so that I could attend The Joe Kubert School, or manning the WOMP booth with me at last year's MCBA FallCon, my Dad was right there, making it happen.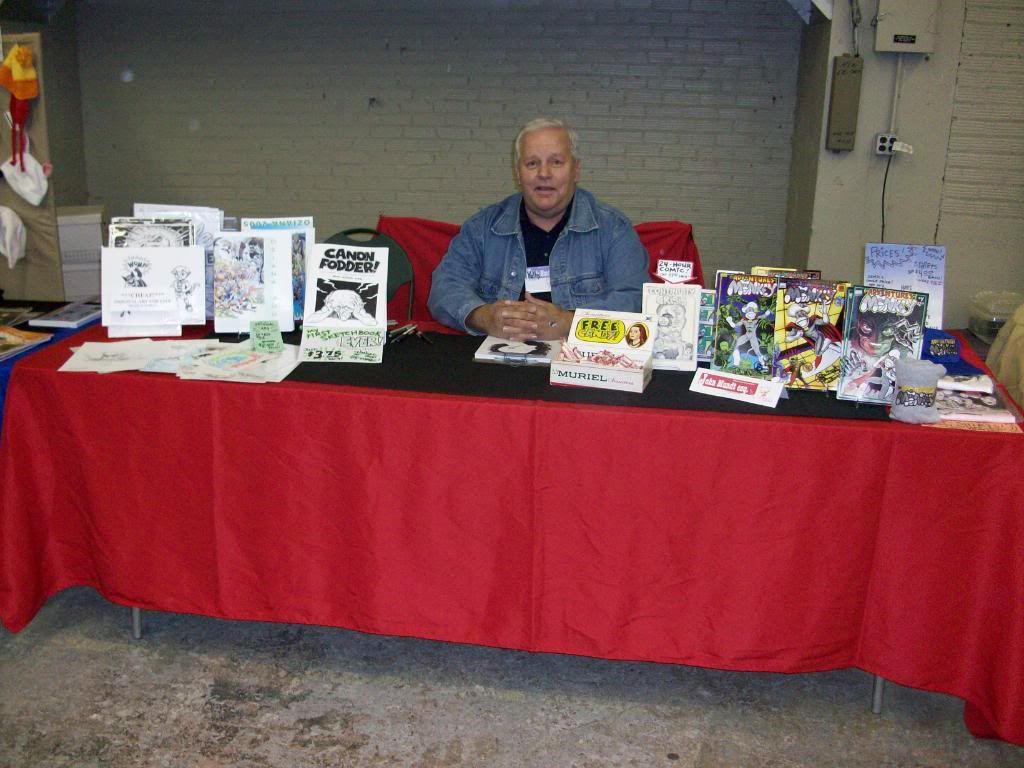 (Yup, that's Dad just a few months ago during 2009's FallCon)

But, of course, that's the stuff that you all may be familiar with. It's the other stuff - the real Dad stuff - that I'm going to miss most. That's what has been so hard to...ugh. That's the mental hurdle that I just can not jump. Nope, not yet. Somehow, someday, and somewhat soon I will find a way to sum up what kind of guy my Dad was, and what he meant to me, but I'm just not there yet. Thankfully, I'm not dealing with this alone. In fact, my sister and brother-in-law have stepped up where I have not been able to. Both wrote a bit about Dad, and have graciously allowed me to post their thoughts here tonight...

DAD

by Kristin J. Mundt

For those who know me, they know I usually never have a problem talking or speaking my mind. However, the emotions and pain I feel right now make it impossible for me to speak these words at this time, so I will write them.

The past few days, when people have consoled my family, have just confirmed what I already knew: My Dad was the kindest person I will ever know. Even when he was upset with me or mad, he still had a way of calming down the situation. I only remember getting one spanking when I was little, and my Dad had tears in his eyes when he disciplined me.

Dad was smart, gentle, funny, thoughtful, intelligent, hard working, talented, loyal, and caring. He was a great artist and singer. Many times on our car travels the whole car would be singing to the radio. Music was always in our lives with Dad playing his LPs, then 8-tracks, then cassettes, and finally CDs so much that Barbra Streisand seemed part of the family! He also enjoyed taking photographs of nature, architecture, and his family, so we always had great records of events in his life.

My brother and I always enjoyed the support of Dad in our endeavors, whatever they might be. While I was in High School, he would come to my track and cross country meets and the whole team could hear him cheering - he encouraged everyone on the teams, not just me. He and John shared a talent of the arts, drawing, and comics, with Dad driving John to many a "Comicon" (comic book conventions to those of you not in the know)

I could talk to my Dad about anything, even stuff I'm sure he didn't want to know! He heard about school, and work, and friends in trouble, and boys, and "teenage girl talk". He always knew what to say and what not to say. My husband Mike and I still called him for advice and help, sometimes he and Mike would talk so long on the phone I just had a chance to say "Love You Dad" before we had to hang up.

One of the very many things I am going to miss about Dad is the "saving the world" talks we would have late at night when I would be staying in PdC at their house. We would start talking about a particular problem in the world, and then just keep going until we thought we had solutions. If John came over, the talks would turn to stories which turned into uncontrollable laughter until my Mom would come up from the bedroom and say,

"It's 3 o'clock!"

When John and I were kids, Dad worked a lot. He was at the hospital many hours every week and vacations were few and far between. The vacations were always "adventurous" in the sense that something always happened to us: getting caught in a tornado, finding bugs in our hotel beds, having our car start on fire, and so on. Dad always drove, and seemed to be able to reassure us that it would be OK and that this was vacation! Maybe it was because of these experiences, or in spite of them, that Mike and I enjoyed spending our vacations with Dad and Mom. We went on a week long houseboat trip on the Mississippi, (even though Dad was not a swimmer); Brewers games, Badger football and hockey games, concerts, parades, festivals, WI Dells waterparks, and our yearly week Up North in Manitowish Waters. We liked spending time with Dad and Mom and after Liam and Aidan came along, it was even more fun.

There are a thousand stories and thoughts that have through my mind in the past few days, but one I wanted to be sure to share is that my Dad was "Dad" to many people. Many times I would hear "You are so lucky Kris to have parents like yours", or "Not all of us have that relationship with our Mom and Dad." My friend Robin called him a father figure and my friend Sarah said "Your Dad is what I always imagined every father should be."

Aidan and Liam miss their Bapa so much already: Aidan wants to know who will drive the minivan now, because only "Grandpa knows how to drive it." Liam said that he will "Look for Bapa in the computer room to play computer games but he's not there now."

The loss of my Dad is going to hurt for a long time. He was such a big part of my world, and the world of those around me. I have a hole inside me that may get smaller over time, but will never by filled. I will think of him every day of my life and feel his hug and hear his laugh and his "Love You" always.

And Kristin's husband, Mike, wrote a poem...

My Thoughts of Kelly

by

Michael J. Statz

(Kelly's Favorite Son-in-Law)

I find it impossible to describe Kelly in just one word

There really aren't enough words.

I find it impossible to determine which were Kelly's best qualities,

He had so many.

I find it impossible to tell somebody who didn't know Kelly about Kelly,

Where would you begin?

Which was bigger? His heart? His laugh? His love for his family?

His ability to always find time to help? His inability to say "No"? His ability to always know when

to say the right thing? His ability to know when not to say the right thing?

See, I find it impossible to put in words, who Kelly was. The best I can come up with is,

If I had a to build a Father-in-Law…It would have been Kelly.

Thanks, K & M. You're awesome. As for me and my little bloggy thing? I'll gradually get back into the swing of things, I suppose. What other choice do I have? I, and The WOMP-Blog, will go on. Dad wouldn't want it any other way.

(this is one of my favorite photos of Dad, from about 1984)
June 3 -
Hello, everybody. I don't know how to say this other than to just say that my Dad, Kelly Mundt, has died. He was 66. It happened suddenly and unexpectedly on Tuesday, June 1st. It has been so hard to...well, to do anything. We are all in shock. We are having a memorial service on Saturday.
Here is a link
to my Dad's full obituary. I hope you'll forgive me if I am once again absent from the WOMP-Blog for a while. Thank you all for the messages of support.
(my Dad in his office on his last day of work)
May 29 - Hola! It's been a busy, busy few days here at WOMP Central. For some mysterious reason, my caricature "business" has really picked up this year. Since the second week of April, I haven't gone a single week without at least one gig. During the week that culminated in my attending SpringCon, I had three caricature events. For comparison, I had two such events total in 2009. I have no gig next week (so far), but I do have two more during the week after that. It's crazy! Earlier today, I drew caricatures at the high school graduation party of the young woman who was, as a kindergartner, the flower girl at my wedding. Fittingly, my bride from that day nearly fourteen years ago (the lovely WOMP Staff) attended the event with me...or, more accurately, at the same time. I was pretty busy, so we didn't see much of each other. Now, hours later, as I plan to continue my SpringCon 2010 report, I have begun to wonder about bringing my caricature drawing equipment to future conventions. I'm not even sure that it would be physically possible. The "end-to-end tables" layout of most cons leaves little room for a gangly jumble of chairs and easels, not to mention a line of waiting people. Still, because of the potential for $$$, I'm mulling it over. Speaking of mulling, let's get back to my report...

Hope SpringCon's Eternal

Part Three; "Three of a Kind...Kind Of"

For those who've never set up at a comics convention, I can tell you that a friendly relationship with your neighboring fellow guests can have many rewards beyond just the pleasantries of conversation and boredom-quelling. There are the practical aspects, like watching over each other's stuff during bathroom breaks, but, more-over, such relationships can enrich the whole convention experience. Some of my best friends in the biz were once "booth buddies" at one con or another. In fact, during this year's show, I met up with (at least briefly) about a dozen past FallCon table-neighbors. Some, like
Jeff Rose
(keeper of the
Official Alex Toth website
) and family stopped by our SpringCon table, while others, like
Mike Toft
(
Cartoon Conspirator
and maker of
Brain Food
) were, like me, virtually shackled to their current tables, so we were only able to see each other in passing. Our buddy from the last FallCon,
"Mad" Scott Gallatin
, and I were actually able to spend some time gabbing at each other's tables. In fact, I purchased one of his awesome sketch cards, an image of "slave Leia" from
The Empire Strikes Back
.

Scott had convinced me to draw my own sketch cards, so a handful featuring WOMP characters made their debut at SpringCon.




I had intended to mix in other, more established characters, but, well, I didn't. I don't know why. It just seemed, I don't know...presumptuous? Yes, I'm sure that images of Deadpool and Batgirl would be far more saleable than cards featuring Vladic and Kitty Boy, but I have such fun drawing my own characters that I am reluctant to draw those with which I have less familiarity. Oh, well...at least many of my cards sold, including one featuring stupidly-named Flamehead Toothy...to Scott Gallatin!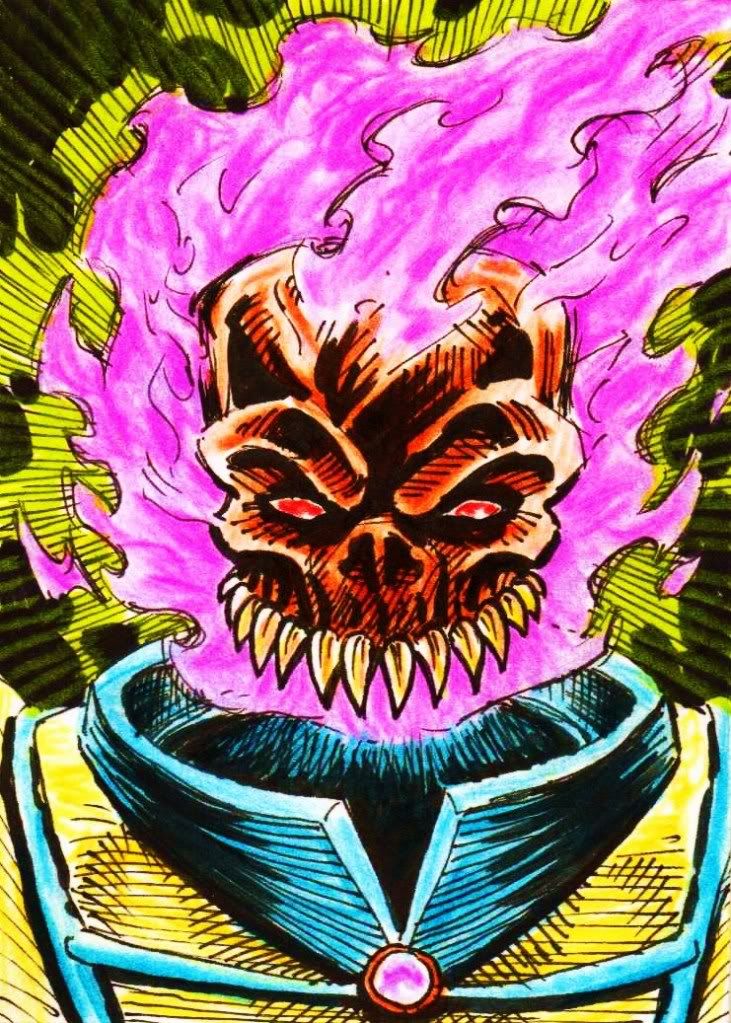 So, I guess we basically traded art. As for this year's booth buddies? Well, we all had a very good time talking to each other. By the end of the show, there had to be at least six people who manned (or womanned) the
Fancy Pants Gangsters
table. They were a fun bunch of podcasters, webmasters, artists, and the gal who was not only the designer of that R2-D2 as birdcage T-shirt, but also came dressed as Silk Spectre from the
Watchmen
movie. Based on our conversations, I drew for them a zombie (OK, again it was my own character,
The Zombie
) who was wearing their awesome necktie-sticker-business card. Our neighbor to the other side, the incredibly talented
Corey Kramer
, and I had already met (last year?), at which time we discovered that we'd each attended the Joe Kubert School (he graduating in 1996, if memory serves)! Among other things, he was debuting a new comic strip,
Wonder Weenies
, with a "Sneak Preview" mini-comic.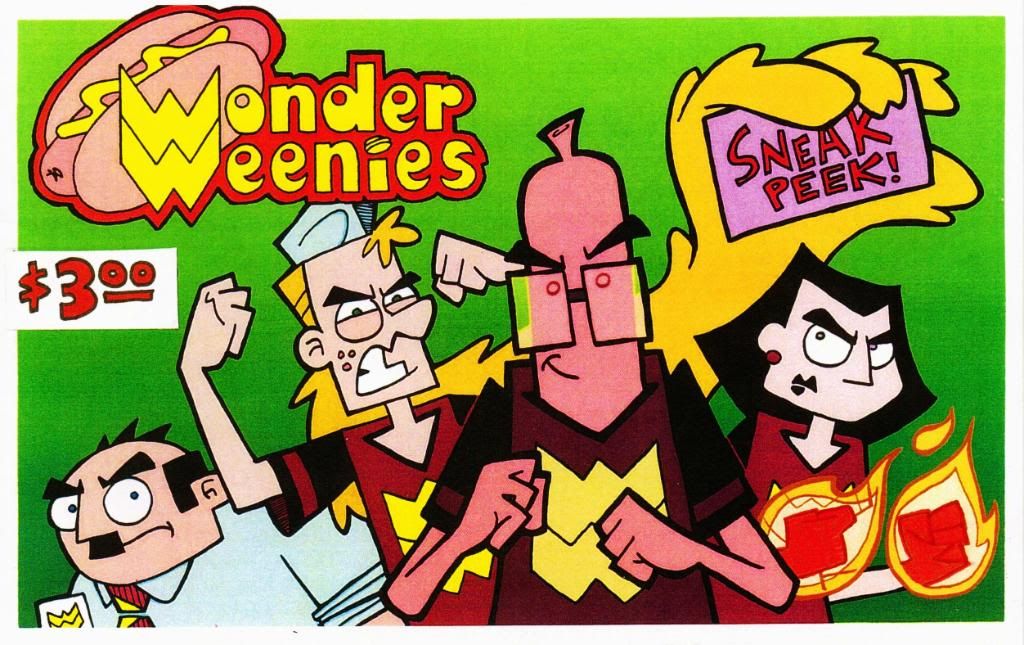 The storyline is so clever, the characters are so well defined and funny, and the whole thing is so perfectly executed that I will not only enthusiastically recommend it, I will go several steps further by predicting that it will make a great animated TV show some day (remember, you heard it here first). Toward the end of the show, I had also met artist
Jim Keefe
. As I looked through his amazing Flash Gordon original art (he was the final artist to handle the iconic newspaper comic strip before it was canceled), I just had a feeling that we too had a connection...and I was right! Yup, he was also a grad of the Kubert School (1989)! We had a great conversation, which culminated in my purchase of his beautiful sketchbook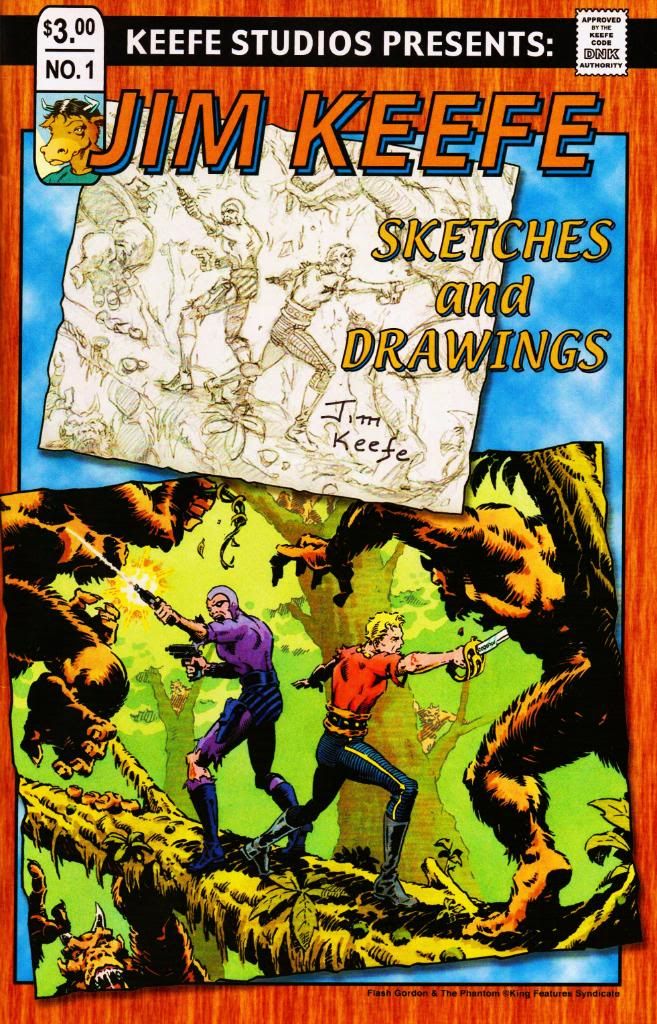 and several nifty original drawings from his eight-year-old daughter, Anna!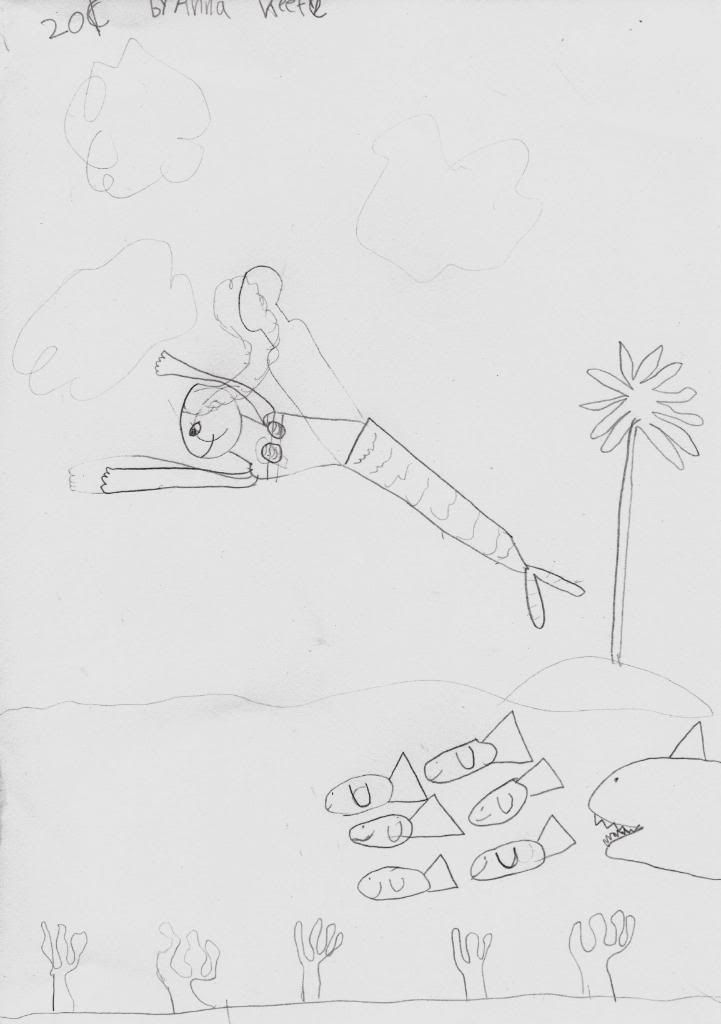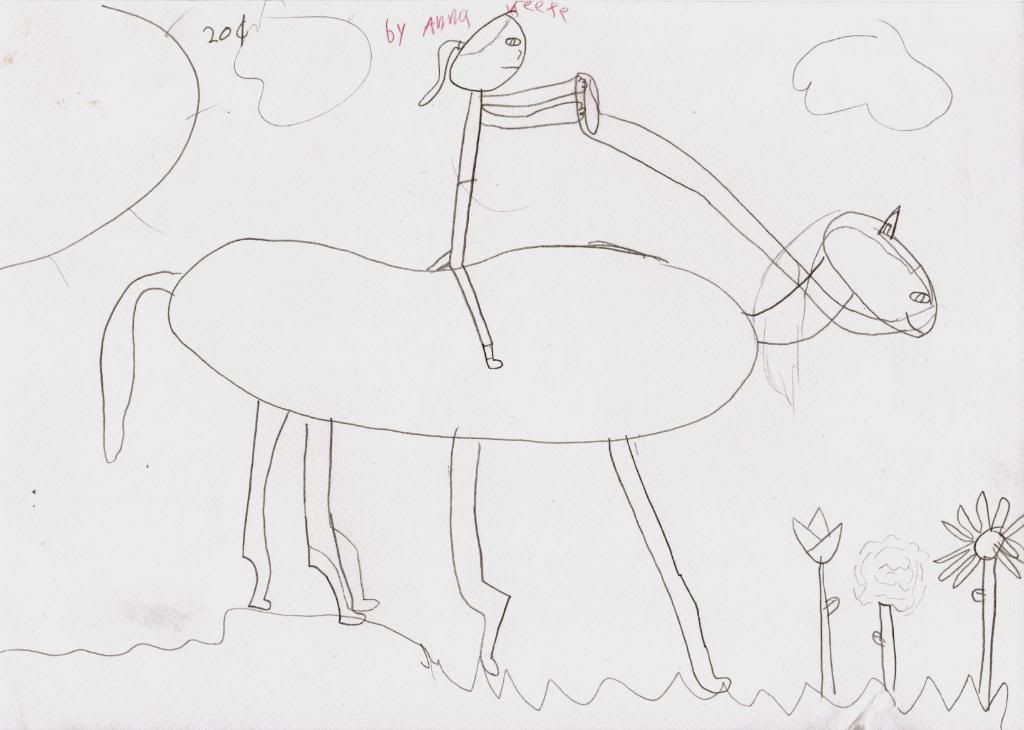 Jim then followed me back to my booth to meet Corey, where the three of us XQBs spent some time laughing, comparing notes, swapping stories, and generally commiserating/reminiscing. What an unexpected bonus that was...and what a humbling experience as well. I was definitely the ugly dog in that little pack. Oh, well.

I'll wrap up my SpringCon report next time, including my opinion of the MCBA's success or failure in switching their big Fall convention in October to a big Spring show in May (I know you can't wait for that). Until then, here is your Comic Book Superpower of The Day - Sorcery/Witchcraft/Magic!

May 27 - Hey there! Back to more convention report with...

Hope SpringCon's Eternal

Part Two; "Both Ends of The Spectrum"

So, what all happened at SpringCon? Well, I have only a slight idea of what everyone else at the convention may have been doing (probably staring at comics legend Jim Shooter....that dude is as legendarily gigantic as he is legendarily, uh...legendary) because I was just busy enough to keep me tethered to the WOMP table for most of it. Oh, I did wander around a little bit as I sought out friends, bargains, and nifty new comics. I found a bit of all of that when I stopped at the
2D Cloud
table, where I met
Raighne Hogan
, who was also one of the artists (he provided beautiful, and
intrinsic
, coloring) of their excellent
Yearbooks
graphic...well, it's not a "novel," as such, but it is a great, complete read, so maybe it's a graphic
novella?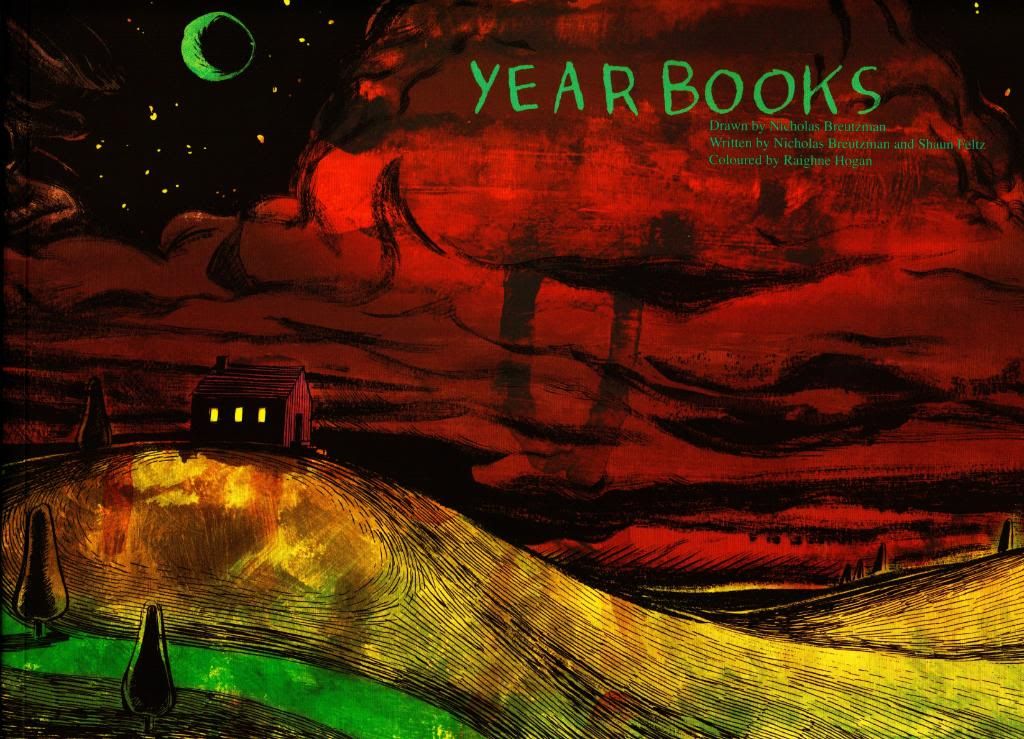 Whatever you'd call it, I bought a copy, and I highly recommend it to anyone else who still believes in the power and potential of the comic book medium, has a mind that looks for deeper meaning, and isn't afraid of uncomfortable discoveries. On the other end of the convention floor (and spectrum), I had the opportunity to speak with "Bronze Age" comics artist
Ron Wilson
(and his wife, who had the same
I-do-this-because-I-love-him-but-I-don't-get-any-of-this
look on her face that my wife does when she sits with me at the WOMP table). He said that SpringCon was his busiest show
ever
, at least in terms of sketch requests. In fact, as I was chatting with Mr. Wilson, a young man (16?) was stopped in his tracks by some of the double-page spreads of The Thing on display. Innocently, he asked if Mr. Wilson would draw something for him, clearly indicating that he had no idea that there is usually a charge for such a thing. Graciously, and without embarrassing the kid, Mr. Wilson obliged, carefully replicating the image that he had drawn for the SpringCon 2010 program cover.

The look on the kid's face when held that drawing in his hands was clearly payment enough for the gentleman artist. More tomorrow.

And here is your Comic Book Superpower of The Day - Line-of-Sight Prescience/X-Ray Vision!

May 26 - Heh. Running late again already. Oh, well...at least I'm "back" in some form. So, let's get to it. Here is...

Hope SpringCon's Eternal

Part One; "At The SpringCon, a Young Man's Fancy

Lightly Turns to Thoughts of 'Quarter Box' Comics"

The WOMP Staff and I had actually made excellent time driving to St. Paul, arriving at our assigned SpringCon table well before 9:00AM. While I set up my meager wares, The Staff spied a charity rummage sale elsewhere in the Minnesota Sate Fairgrounds complex, so she snuck over to that for her last few moments of non-geeky freedom. As she was sifting through used purses and old books, I was surprisingly stress free while I was arranging everything. Our neighbors to our left, cartoonist Corey Kramer and his wife, had already set-up their beautiful booth,which made mine look like newspapers piled on the porch of an abandoned house by comparison.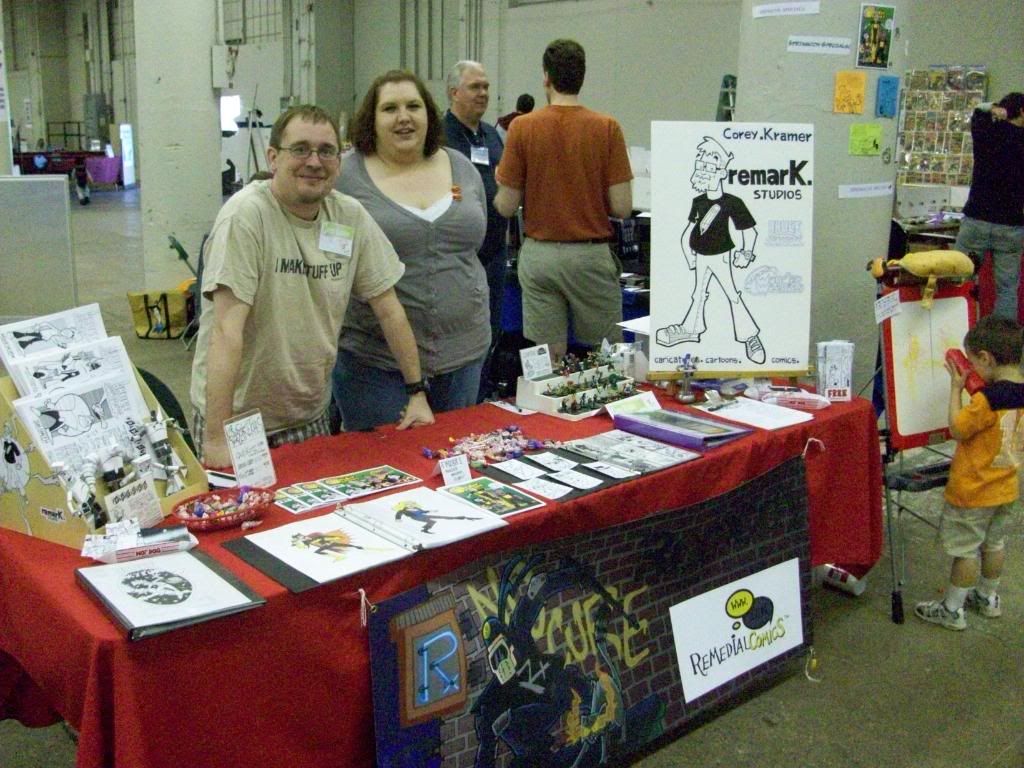 Oh, well. I guess I'll have to work on that for next time. Just before the show was to open to the public at 10:00AM, The Staff returned, newfound treasures in tow, including a mammoth book called
Dreadnought: Britain, Germany, and the Coming of The Great War
. With over a thousand pages of dense, scholarly history, she was set for reading material for the duration of the show. Of course, there was the added benefit of shocking our once-again backyard booth buddy
Chad Corrie
(and his Dad, Lee), who nearly tripped over the book as he was setting up his table.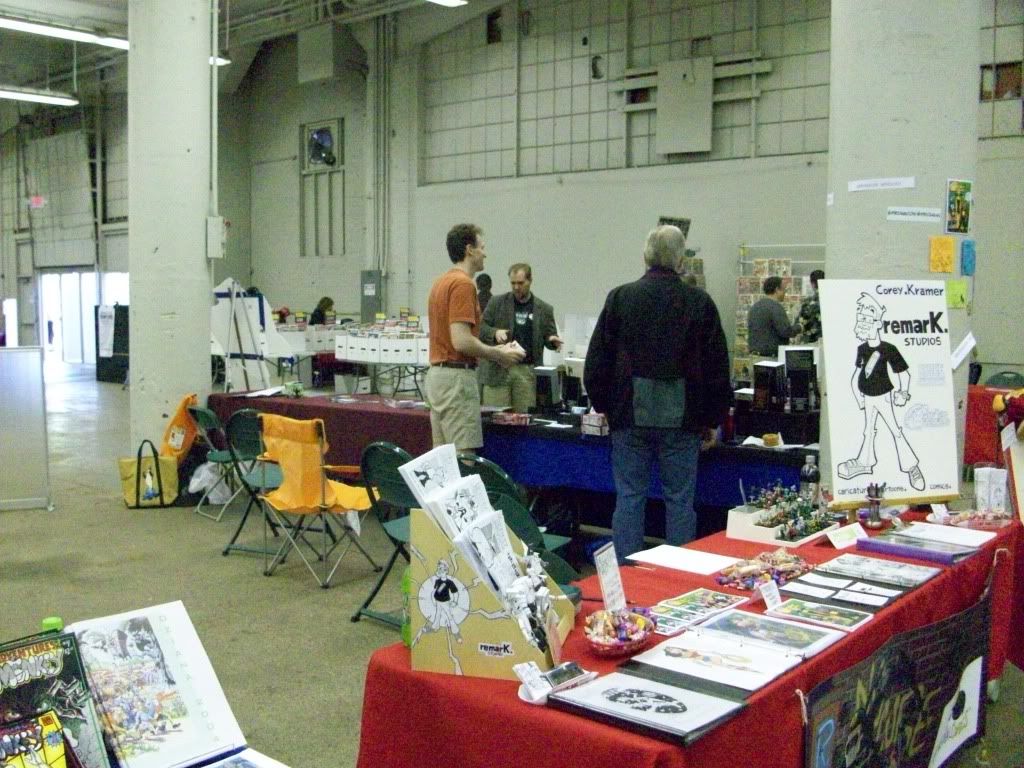 Our booth-buddies to our right were representing
Fancy Pants Gangsters
, a loose confederation of Twin City netcasters (oh, and they were sorta nuts...but in a good way).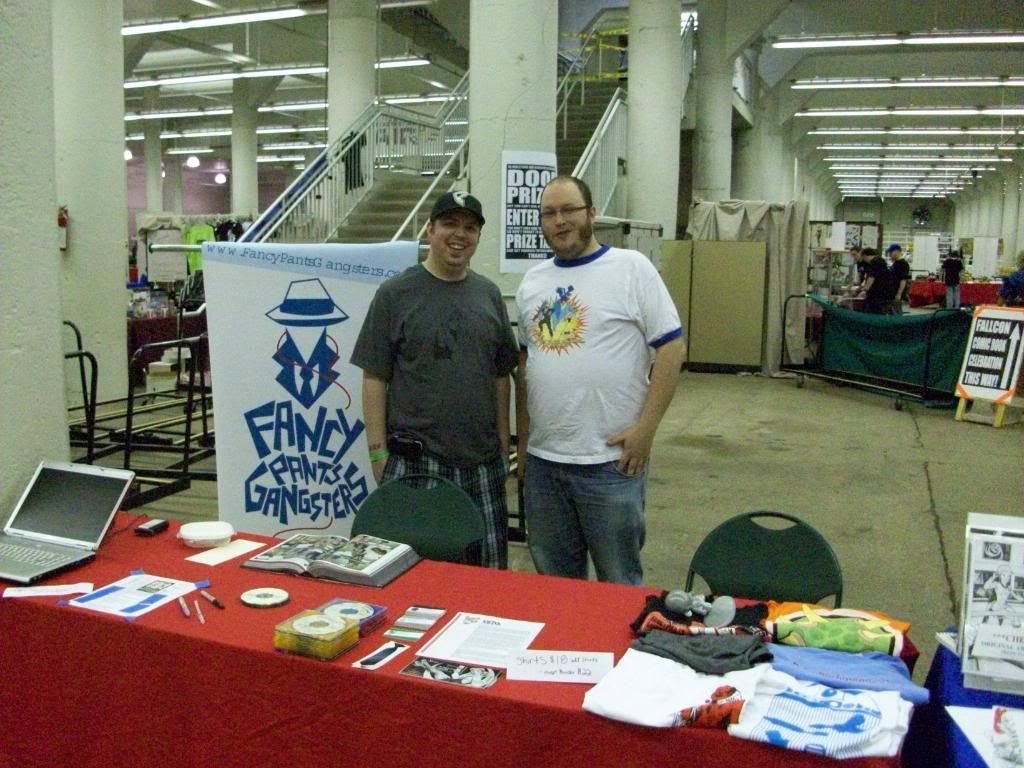 They also had clever T-shirts for sale, including one featuring R2-D2 as a birdcage!
Across from us was the retail booth for
The Source
, legendary Twin City Area comic book and gaming shop. Their tables were always busy, especially as fans were drawn in by box after box of "quarter comics" (that even sucked me in, as I spent an
insane
$17.00 on their four-for-a-dollar books).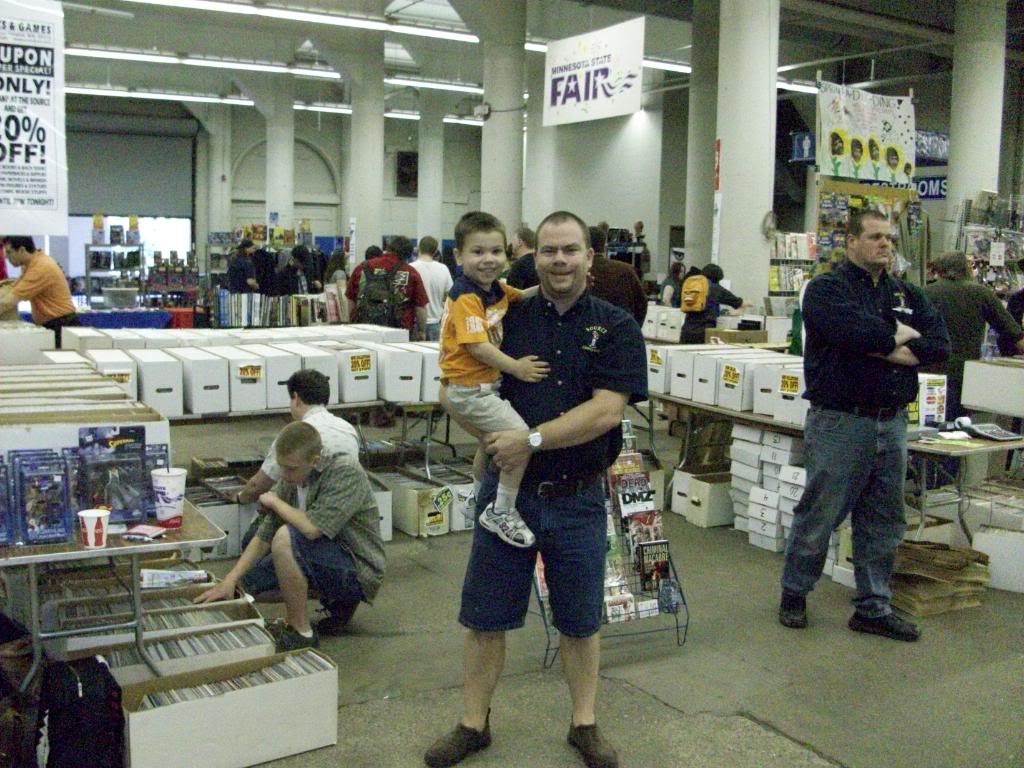 Between the fun neighbors, the great location, and the truly beautiful May day, we had one of our best shows ever, both in sales and fun! More tomorrow.
May 25, 2010 - Um...hi. Remember me? Yeah, so...it, uh...it has been a while. Like almost half a year. And this isn't even the first time that I have slunk back to the ol' WOMP-Blog, apologizing for a lengthy absence. In the past, I have tried to explain myself, reveal my circumstances, make light of the situation, ignore it in hopes that no-one will notice, and even - most especially - I have tried (I really have) to post at least something during those lapses. Now, as I have exhausted all of those tactics, not to mention the patience of any one-time regular readers, I can only say that this posting comes at the top of a back-log of ideas and plans that are practically bursting from my skull. Sometime back, I wondered whether I still had any "need" for a blog. Now, after some thought (and another bout of illness...OOPS! I said I wouldn't make excuses....so, uh, ignore that part), I've realized that some of the best things that have ever happened to me have only happened because of the ol' WOMP-Blog. I may have sometimes felt like I was just putting messages in bottles, but, since I began blogging back in 2003, the most amazing people have found those wayward bottles washed up on their shores, and they have responded with interest, information, and even friendship. And how cool is that? SO, long, long story somewhat shortened, I'm back. To kick off this, the "second chapter" of The WOMP-Blog, let me tell you about the comics convention that the beautiful WOMP-Staff and I attended recently, in a report I call...

Hope SpringCon's Eternal

Prologue; "FallCon Leaves"

OK, so I missed posting any report of last year's MCBA FallCon in St. Paul, Minnesota. "No big deal," I thought, "I'll just roll it into 2010's report." Little did I know at the time that 2009 marked the end of FallCon as we've known it! In an attempt to vie for greater crowds and to entice more "big-name" guests, the good folks that comprise the MCBA bit the bullet and moved their big two-day convention to May, replacing their Mini-Con ("FallCon" will continue as the regional one-day show). Now, just to set up my report of attending the first ever SpringCon, I have to try to give you at least a quick synopsis of the last ever
real
FallCon. In brief, my wife wasn't feeling well, so my Dad came with me. We had great "booth buddies;" the gang from
Transylvania TV
on one side, and cartoonist
Scott Gallatin
on the other. We saw lots of old friends, made new ones, etc. and so forth. I also debuted my first ever "for sale" sketchbook,
Canon Fodder!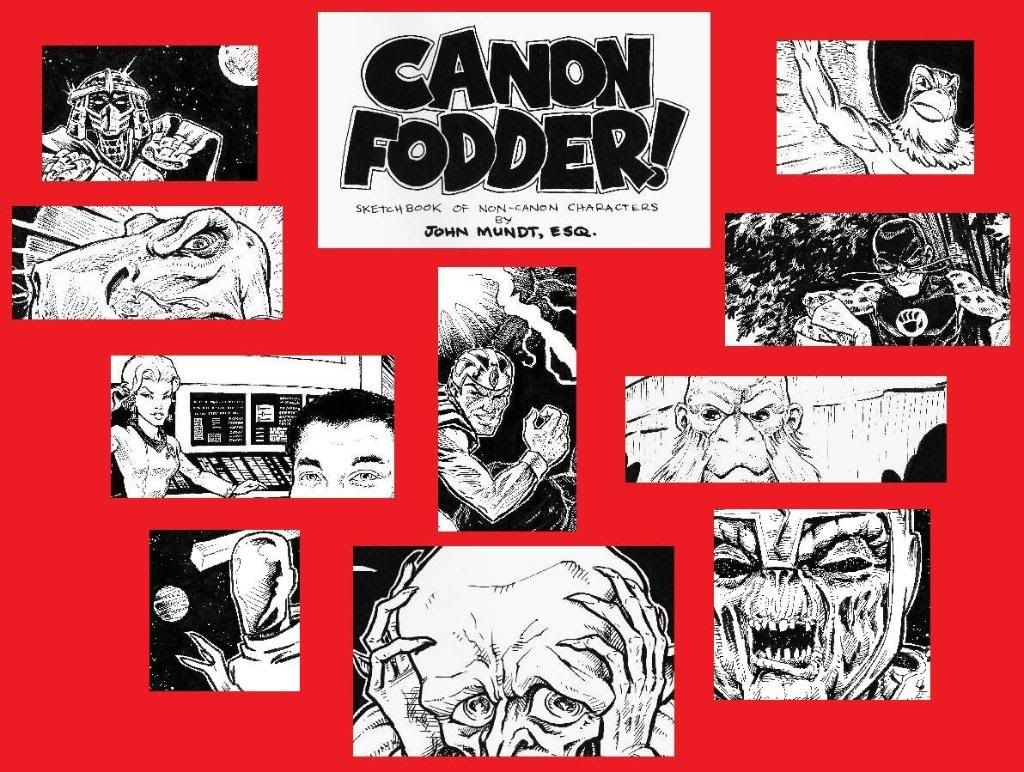 (here is just a little "tease" for my sketchbook...more info is coming soon)

For SpringCon, held May 15th and 16th, The WOMP Staff was back by my side as we set up the WOMP table for the first time in 2010.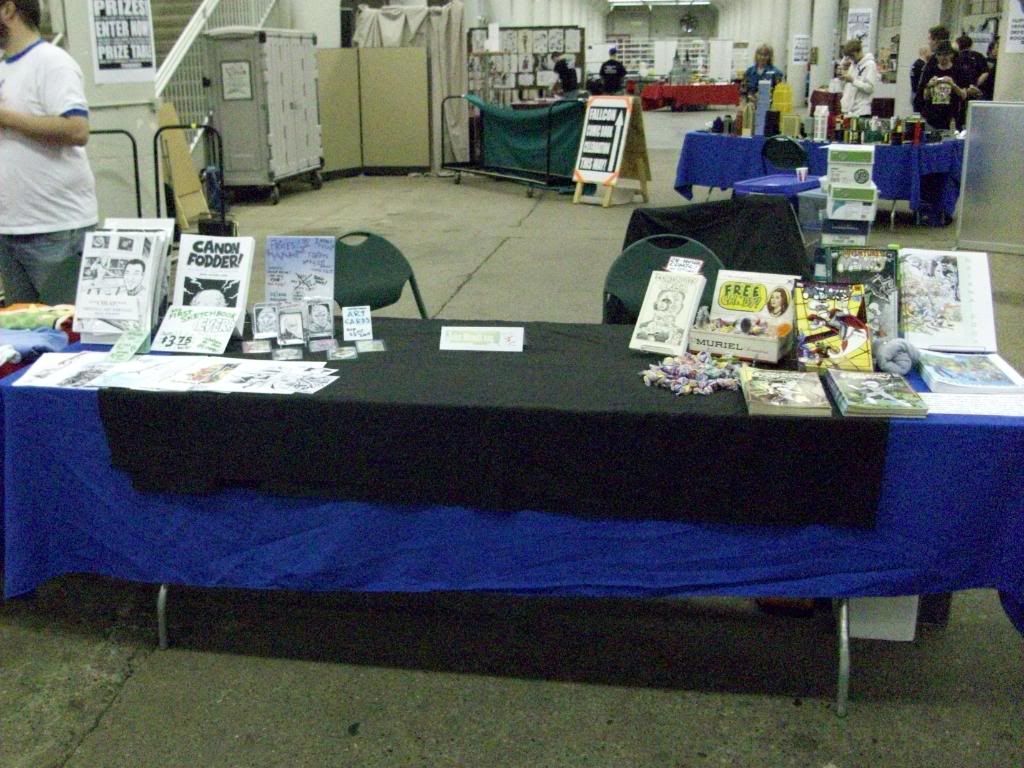 We had a great spot (just four tables from the entrance area) amongst some great people. More about them, and other nifty stuff, when my report continues...TOMORROW!

Until then, let me get another once-familiar feature back on track. It's been so long since I have posted an "...Of The Day" that I had to do research just to find out what I last did. As it turns out, I was focusing on superpowers. So, after much delay, here is your Comic Book Superpower of The Day - Possession (as in "He's possessed!")!
The Great 2009 Forty Questions Meme Thingee
1. What did you do in 2009 that you'd never done before?
Live past the year 2008.
2. Did you keep your new years' resolutions, and will you make more for next year?
I made none, and I kept all of them. Same thing for 2010.
3. Did anyone close to you give birth?
No. Or, do you mean
physically
? I do only live a few blocks from a hospital.
4. Did anyone close to you die?
Yes, far too many.
5. What countries did you visit?
None but my own (The Mundtstralian Republic of Esquiredom).
6. What would you like to have in 2010 that you lacked in 2009?
Good health.
7. What dates from 2009 will remain etched upon your memory, and why?
I'll never forget
December 16th
...because it only comes once a year, naturally.
8. What was your biggest achievement of the year?
Surviving it.
9. What was your biggest failure of the year?
Merely
surviving it.
10. Did you suffer illness or injury?
Well, "suffer" may be too strong a word. "Experience," maybe?
11. What was the best thing you bought?
Hmm. Nothing comes to mind. Probably something for The WOMP Staff.
12. Whose behavior merited celebration?
Kool & The Gang?
13. Whose behavior made you appalled and depressed?
Besides my own? I'm going with The Birthers.
14. Where did most of your money go?
Out the window (in the form of bill payments).
15. What did you get really, really, really excited about?
Uh, the next episode of
Glee
?
16. What song will always remind you of 2009?
That Taylor Swift "you belong to me-he-ee" song. Ugh.
17. Compared to this time last year, are you...
a) happier or sadder?
Well, sadder, I suppose.
b) thinner or fatter?
Oh, much fatter, of course.
c) richer or poorer?
About the same; perpetually five bucks above flat broke.
18. What do you wish you'd done more of?
Anything worth doing.
19. What do you wish you'd done less of?
Spider Solitaire.
20. How will you be spending Christmas?
That's, like, nearly a full year away, man. I have no idea what I'll be doing by then (but I'm going to guess "Christmas stuff").
21. Did you fall in love in 2009?
Everytime I saw my wife (corny, but still true!).
22. How many one-night stands?
Well, we have one-night stand on my side of the bed, and one-night stand on my wife's, so
two
, I guess.
23. What was your favorite TV program?
Four-way tie;
Glee
/Modern Family/Community/
30 Rock
. Tie-breaker;
Late Show with David Letterman
.
24. Do you hate anyone now that you didn't hate this time last year?
I don't really hate anybody, if I can help it...but Glenn Beck has moved dangerously close to the edge of my tolerance level.
25. What was the best book you read?
The Kane's on Fire!
by Mary Ann Stemper.
26. What was your greatest musical discovery?
None for 2009, I guess (unless I can somehow mention
Glee
again).
27. What did you want and get?
Better.
28. What did you want and not get?
New eyeglasses...oh, and the sudden fulfilment of my wildest dreams.
29. What was your favorite film of this year?
I didn't see any "first-run" films in 2009.
30. What did you do on your birthday?
Nothing other than remember that I'm aging.
31. What one thing would have made your year immeasurably more satisfying?
Skipping it.
32. How would you describe your personal fashion concept in 2008?
Sort of "Fat Slob" meets "Unkempt Dork"...with just a dash of "What The Hell Is He Wearing On His Head?" thrown in for fun. You know; the usual.
33. What kept you sane?
It costs too much to go nuts.
34. Which celebrity/public figure did you fancy the most?
Hmm. None really made me run from another room to see them on TV, or prompted me to buy a magzine with her picture on the cover, but I did have a bit of a "thing" for Zooey Deschanel. And I'm not sure that even rises to the level of "fancy" anyway.
35. What political issue stirred you the most?
The Health Care debate, I suppose.
36. Who did you miss?
Too many to list.
37. Who was the best new person you met?
The best people I met were years removed from being "new." Most were at least past twenty.
38. What is a valuable life lesson you learned in 2009?
Without your health, you have nothing (or, if you do have something, you certainly can't enjoy it).
39. What song lyric sums up your year?
"Don't get around much anymore."

40. If your year were a movie, what title would it have?
The Flintstones in Viva Rock Vegas
, of course.
Straight from someone else's mind comes this meme about 2009. Just for the heck of it, I actually completed this one. If you do the same "questionaire," let me know so we can compare notes. OK, OK...here are my answers to...
December 31, 2009 - Finally, 2009 is done. At last! I don't know about you, but - with the noted exceptions of some of the positive events and trends in the larger world - 2009 was a sucky year for me. And it wasn't so great for most of my friends and family (like you), for that matter. I guess that's how it goes sometimes. In past years, I've managed to sum up the previous twelve months, good or bad, with a "Top Ten" list here in the ol' WOMP-Blog, but, as I began to compile a similar list for 2009, I realized that it was virtually entirely negative...and who wants to read that? Heck, I've barely posted two dozen entries for the entire year, so the last thing I need to do is end the decade with a list of gripes, pains, and sorrows. Instead, let's try something unusual. Here's a year-end list of...

The Top Ten 2009 WOMP-Blog Stories That I Forgot to Post (Because They Never Happened)

10) January 20, Inauguration Day - A wonderful recounting of my trip to Washington to attend the Presidential Inauguration as special guest of the Obamas. Favorite memory; huddling with Al Gore as we attempted both to keep warm and from laughing out loud at Aretha's "giant green zipper tied in a knot" hat.

9) February 14, Valentine's Day - I must admit that I outdid myself this year. It was just barely over-the-top when I flew my wife, also known as the beautiful WOMP Staff, to Paris for a romantic dinner at the top of the Eiffel Tower, but I think I really jumped the shark when I hired the Sarkozys to serve and serenade us as we ate. What can I say; I'm a hopeless romantic.

8) April 3, Monkey's Birthday - Imagine my surprise when a choir of small children gathered outside my studio window to sing birthday greetings to my most famous cartoon character. Unexpected, but, in light of the coinciding release of the Pixar film based on The Adventures of Monkey, not entirely unimaginable, I suppose.

7) July 4, Independence Day -
Almost lost in my reporting on the 100th Anniversary of Pete's Hamburgers was the commemoration of the 233rd Anniversary of The United States of America (not to mention the 955th Anniversary of the "Birth" of the Crab Nebula Being Observed on Earth).
6) August 21, Hawaii Statehood Day - Celebrating the 50th anniversary of becoming the 50th U.S. State, Hawaii threw a crazy awesome feast. I ate until I nearly passed out, and still I performed a hula kahiko like a lifelong islander.

5) September 7, Labor Day - In spite of the economy (or because of it?), and in honor of Labor Day, I finally quit my dreaded "real" job, in favor of my cartooning. Now that I am no longer there, I can finally reveal that my "real" job had been working as Senior Manure Inspector for a fertilizer company. And you thought your job stinks!

4) October 31, Halloween - For the first time since I was a kid, we turned WOMP Headquarters into a massive haunted house! "Mundt Manor" had hundreds of visitors, gave away about seventy pounds of candy, and officially became the most elaborate "haunted house" in city history. In my role as "Phantom of The Manor," I had lots of fun scaring anyone who I heard say aloud "This isn't scary."

3) November 11, Veterans' Day - We stood ten to twenty rows deep on both sides of the street as all local troops marched through town when they came home from Iraq and Afghanistan. I certainly never expected everything overseas to end so quickly and so well, but I'm happy to have been wrong.

2) December 8, My Birthday - Ugh. One year away now from the big one-two-oh. Turning 119 years old this year may seem impressive, but there is some sort of psychological threshold that turning 120 represents, so I am already dreading the countdown to my next birthday. I mean, when I turn 120, I can no longer really claim to be "just out of my 100's" anymore. Yep, no matter how I look at it, I have a year left to make my mark before I am officially "old."

1) December 31, New Year's Eve - That brings us to here and now. I don't know how 2010 can top 2009, especially in light of the kickass party that is going on in the next room as I write this, but I am optimistic. With a little luck, everything will just keep getting better and better!

Hrm. That...that all still rang a teensy-bit negative, didn't it? I really just wanted to be optimistic for a change, but it's not in my nature, I guess. Still, I do have some reasons to think that the next year may be better than the last. I am healthier going into 2010 than I was for 2009, for example. I have just recently been able to get back up to speed drawing stuff (although none of it has increased in quality yet). Moreover, for the first time in years, I have a plan. In fact, I have a redesigned "master plan," and several smaller sub-plans for 2010. Even though my plans can (and usually do) collapse, just the fact that I have some is a big step up from this same time last year. Sneak Preview; back to the "Art is My Job" mantra. I hope that we all will have a better year in 2010. See ya!

BONUS! Here is an extra "Top Ten" list! It's...

The Top Ten Years of The 2000's

10) 2001

9) 2000

8) 2009

7) 2004
6/5) 2006/2003 (tie)

4) 2007

3) 2002

2) 2005

1) 2008

November 24, 2009 - Here's the thing; I may have moved on. Maybe. I don't really know, but it seems like I no longer have that internal need to post entries in the ol' WOMP-Blog. I still have the desire to do so, but the need seems to have ebbed. Why? Heck, I don't even know why I began a blog in the first place. I have always purported that it was to keep interested people informed of my cartoonish efforts. If I could admit it, I'd say that it really may have been that I'd hoped to impress strangers with my sparkling wit and deathless insights. Whatever the reasons, actual or supposed, they apparently have little sway over me anymore. Even as my circle of e-friends was increasing, I think I began to feel that I was blogging just to blog. Of course, my health and work concerns played a role in my lengthy laconic lapses of late, but my most recent spat of silence seems to stem from a sense of being in a bit of a bubble. The whole thing reminds me of some of my childhood imaginings about the nature of reality. As I'd walk home from school, I'd often wonder how I could know that the world around me wasn't really an elaborate mirage, orchestrated by mysterious forces with inscrutable motivations to hide the truth that I was really the only living being on Earth (if I was even on Earth at all). I suppose that every kid has some similar ego-infused Truman Show style dream. Back then, I'm sure that my comic book and science fiction reading, coupled with a lifelong general sense of loneliness, made me ask "what is really real?" Today, "what is really real" is even harder to define. Much of self-promotion (the apparent purpose of The WOMP-Blog) is also self-encouragement, if not self-delusion. By attempting to convince others that you are doing something worthy of their interest, you often are convincing yourself as well (or are, at least, re-enforcing a conviction). For whatever reason (and I suspect it is the specter of death that has hung over my shoulder during the last year or so), I'm no longer able to efficiently delude myself into ignoring my many inadequacies nor the unlikelihood of my success, and I really have nothing to market other than stacks of yellowing pulp, so "what is really real" has become less obvious. So, I may have moved on. Maybe. You see, beyond all of that, there is still some weird little spark-thing that keeps me going, like a far-off lost hiker sending out an S.O.S. with a tiny mirror reflecting the sun. So here I am, reflecting on the recent sixth anniversary of the "founding" of the ol' WOMP-Blog. Yep, back in November of 2003 I began my informative, self-promoting, ego-infused, marketing delusion with a weak posting about comic book creators and football players. In the hundreds of posts since, I have waxed poetic, waned prophetic, and complained pathetic. I've talked about history, artistry, and an artery. I've even produced a few entries of which I'm somewhat proud. In reviewing the past posts, it's also pretty obvious that they add up to a great big question; "what is really real?" Just like when I was a kid, the question has no "real" answer. There is no way to know whether or not the world is a ruse. All you can do is accept that a degree of uncertainty - in all matters - is the only thing that is truly "really real," and then...move on. So, I guess I will. Whatever that will mean I can't begin to know right now, but I certainly hope that it doesn't mean that I will go another two-plus months without posting at least something. Sorry about that. If I can, I'll try to fill you in on some recent misadventures. If I can't, I won't. Either way, I'll move on. See ya!

September 12 -
I'm certainly not the first to say this, but Autumn is clearly, and I would say prematurely, creeping up on us, isn't it? That means
fallfire6
is almost upon us! I haven't done a lot of preparation work yet, but I do have some of the basics of funding and locales determined. Soon I'll have to update the
fallfire
site with this year's specifics. It feels great to be talking about the sixth annual
fallfire
contest, but, organizationally speaking, I'd hoped to be far less involved in what I'd also hoped to have been a much more autonomous entity by now. Ah,
plans
. Without my grandiose plans, and their inevitable abandonment, how else would I measure my failure? Still, having a plan -
or, to be more accurate in my case, merely the slightest hint of an actual plan
- is better than just bumbling along without any self-direction. I think. Take, for example, my "plans" for this year's FallCon comic book convention in St. Paul, Minnesota (which, by the way, has a brand new
WEB-SITE
). I have plans for all sorts of things, from new business cards, to a sketchbook of some recent drawings, to con-report webcasts at the end of each day.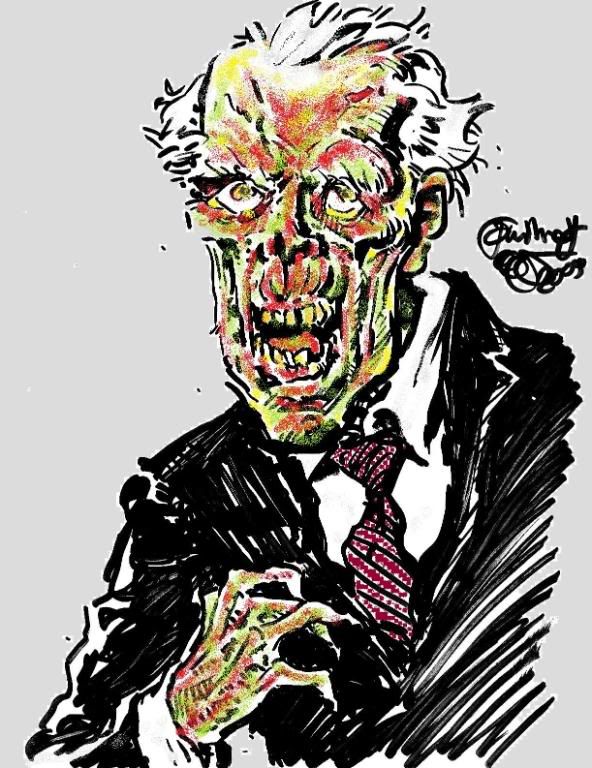 (uh...this
won't
be in the sketchbook)

How much of that will actually happen? It's almost at the whim of the wind right now, as something as simple as a single bad day at the dreaded "real" job could rob me of just enough energy or motivation that I will have to forgo any or all of my FallCon plans. Even so, I do get this little buzz of excitement in my chest when I imagine - daydream, really - about my plans. While it may be true that "life is what happens while you're busy making plans," making plans can also be a way to enjoy life. For me, actively envisioning what could be is not only constructive, but fun! So what if only a small fraction of my planning comes to fruition. The dreamer in me can sustain the realist, even when the realist has to clean up the dreamer's messes. So, wish me luck as I begin my downward spiral in to reconciling my plans with sad reality...and the same for you and your plans! Now, some quick notes....

1) SpikeTV is still accepting votes for the 2009 Scream Awards. "Who cares?" you might ask. Well, amongst the categories is "Best Comic Book," for which
O.F.O.WOMP
Tim Seeley's
Hack/Slash
has again been nominated! Quick, go vote for him
HERE
(and every day after that until October 17th)! Beyond the obvious honor of being nominated with
Green Lantern
,
Kick-Ass
,
Thor
,
The Walking Dead
, and
Wolverine: Old Man Logan
, Tim's comic has the unbelievable distinction of having been nominated by an expert panel that includes Zack Snyder, Tim Burton, Wes Craven, Neil Gaiman, and Frank Miller! That's like an award right there!
2) I will be drawing caricatures in fabled Wisconsin Dells in October (17th and 18th)! Fulfilling my father-in-law Steve's prophecy, I am finally stepping up a notch on the caricaturing biz scale, hitting "the big time" after just six (or seven?) years of drawing people in public. The event is the 2009 Autumn Harvest Fest, and you can read more about it by clicking
HERE
, although I'm not yet listed there.
3) Speaking of my father-in-law, I should probably tell you that he is doing well. He's had some trouble with his recovery now, but, overall, he's clearly on his way back to 100%.

4) I'll say it here, and I don't care what you think of me afterward; I love Glee! Maybe it's the ghosts of my high school chorus experiences come back to haunt me, or my time as director of community theatre clouding my judgement, but I can't help it. I love it. I love the music (although badly dubbed...yeesh), I love the characters, I just...love it. Plus, I've long had crushes on Jane Lynch (brilliant and hilarious), and Jessalyn Gilsig (plays Claire's birth-mother on Heroes), and a pseudo-crush on Broadway's Lea Michele (of Les Miserables fame...and she's 23, not 16 like her character, so I'm technically not a creepy old man for liking her...technically). The only problem is that I can't help singing along with the show (much to The WOMP-Staff's chagrin). Anyone else have that problem? Oh, well...don't stop believin'!

5) I have a theme for this month's "...Of The Day" feature; superpowers! Hopefully, as September progresses, I'll post some thoughts about the nature of superpowers, their origins, their deeper meanings, and so forth. Or, at least that's the plan. Hmm. So, I leave you tonight with your first dozen Comic Book Superpowers of The Day - Flight, Control Over The Elements/Weather/etc., Matter Eating, Wall-Crawling, Ability to Communicate With Animals, Super-Mimicry, Immortality, Extra-Sensory Perception, Super-Strength, Super-Intelligence, Invulnerability, and The Ability to Emit Energy/Lasers/Fire/etc.!